Spinlock Deckvest 6D 170N Pro Sensor Lifejacket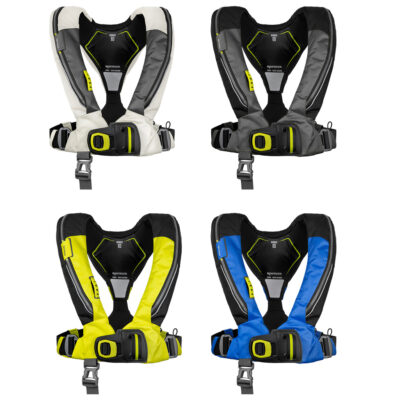 Building on the already impressive 5D, the Deckvest 6D takes performance, safety and comfort to the next level over its predecessor.
Adjustment options and erganomic fit have been improved, while a new buckle system is both simpler and quicker to use. The Deckvest 6D is fitted with a United Moulder Pro Sensor Elite – a more compact firing unit that allows for a better fit. The lifejacket is also equipped with a sprayhood as well as both Pylon and Lume-On lights.
The Deckvest 6D is available off the shelf in Gun Metal Black as well as 3 other colours as a special order. One size fits all.
Features
170N Buoyancy
One size fits all
UML Pro Sensor Elite activation system
Improved front opening buckle with smooth body adjuster system
Enhanced shoulder fit system for the perfect fit, every time, all day
Enhanced back profile for clean, unobtrusive look and fit
Hard-wearing coated fabrics in key areas
Sprayhood designed with large clear structured visor – stored away from neck
Firing system on rear of bladder for improved comfort and reduced snagging when inflated
Single Leg Strap with stowage pocket – extra wide, easy to find, easy to locate
Pylon 360° and Lume-On bladder illumination lights fitted
MOB1 AIS Compatible (Also works with Kannad AIS)
5 Year Warranty on product registration
Cutter attachment point for non-HRS models
Optional Harness Release System (HRS) version is also available
CE Approved to: ISO12402-3
Specifications
User weight 50kg +
Size Range: 60-150cm
Uses a 33g CO2 cylinder
Product weight: 1.3kg
Approvals
The Deckvest 6D is approved to the following international standards:
CE Approved
ISO12402-3 170N Lifejacket
ISO12401 Deck Harness
The Inflation System – UML Pro Sensor ELITE inflator
The Pro Sensor Elite Automatic Inflator replaces the Pro Sensor Automatic Inflator late in 2018 (13mm shorter and 4 grams lighter than the original Pro Sensor Automatic Inflator).
This is a water sensitive activation system, that uses a compressed paper capsule which dissolves when wet, which then releases a spring to puncture the CO2 cylinder.
Cap designed so that only water flowing upwards through the unit will cause it to activate. Water, spray and rain running down the jacket will not cause activation.
The Pro Sensor ELITE has two indicators that show the status of the CO2 cylinder and firing head.
For Hammar inflation see Deckvest VITO
Please refer to the manufacturer's website for more information: www.spinlock.co.uk. For product pricing and also stock availability please call +852 2827 5876 or contact us.