Topper Topaz 14 CAT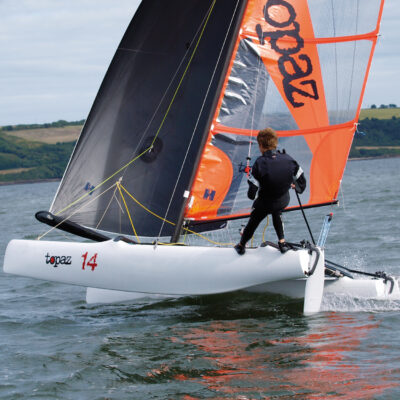 The Topaz Catamarans have been designed by International multihull racing legends Yves Loday and Robert White. With such sailing experience and pedigree, not to mention their proven design track records, it comes as little surprise that the Loday/White team have produced such a stunning range of cats.
The TOPAZ 14 is an accessible but high performance cat designed for two medium to light crew. There is room on the trampoline for three for cruising. The Topaz 14C has a twin trapeze and a powerful 9.98m2 sail area courtesy of a large Dacron main and jib. The 14CX has a decent 10.00m2 gennaker to provide a more powered up downwind ride.
The TOPAZ 14 XTREME is a souped up singlehanded variation. The XTREME version has a superb fathead Mylar mainsail coupled with a 9.90m2 asymmetric gennaker plus a trapeze to take full advantage of the staggering amounts of available power. The 14 XTREME is a sublime creation suited to a wide range of crew weights.
The Topaz cats are all roto-moulded in tri-laminated Metalicene polyethylene producing the stiffest, lightest and most dynamic hulls available. The hulls are also extremely robust and low maintenance making them ideal for even the toughest sailing school environments.
Topper Topaz 14 CAT Features
High foredeck with lots of volume in the bow area is great for stability, handling and taut feedback
The built-in skeg design hulls (so no need for daggerboards) make for user friendly sailing
No boom makes for one less thing to worry about
Lock-in beams combined with stiff hull construction provide a stiff, rigid and dynamic sailing platform
Adjustable, safe and simple 'Race' Rudder System allows you to adjust the rake of blade dependent on conditions
Fully battened mainsail provides exciting performance
Durable and manageable Dacron radial-cut mainsail and furling jib as standard
Reefing mainsail as standard
Single-line 'Race' Gennaker System is easy and effortless
Snuffer tube and gennaker sock
Twin trapeze as standard
High quality foot straps for trapezing
Unique non-slip pattern is user friendly and provides extra grip when trapezing
Foam filled sealed mast for extra safety
Step hinged mast makes rigging quick and easy (even for one young person)
Incredibly high quality hardware including ball bearing blocks and race specification cleats
Auto-ratchet gennaker block
Hard wearing injection moulded polyethylene rudder blade
Total rigged weight of just 110kg
TRILAM technology unique to Topper gives unrivalled strength to weight ratio and great uniformity, buoyancy, stiffness, dynamism, lightweight and durability
Three year hull warranty
14 Xtreme singlehanded rig option
Specifications
| | | |
| --- | --- | --- |
| Model | Topaz 14C / 14CX | TOPAZ 14XTREME |
| Length | 4.25m | 4.25m |
| Beam | 2.05m | 2.05m |
| Crew Capacity | 1-3 | 1-3 |
| Racing Crew | 2 | 1 |
| Weight (fully rigged) | 110kg | 110kg |
| Construction | Topaz TRILAM | Topaz TRILAM |
| Sail Area ex spi | 9.98m2 | 10.32m2 |
| Main | 8.04m2 | 10.32m2 |
| Jib | 1.94m2 | – |
| Gennnaker | 9.89m2 | 10.00m2 |
| Trapeze | Twin | Single |
| Level | Novice-Club Racing | Club Racer-Top Racer |
HULL COLOUR Topaz TRILAM white hull with light grey fleck effect.
SAIL COLOURS Dacron mainsail is white with red/black trim. Dacron jib is white with red/black trim. Spinnaker is black featuring Topper International logo. Sail Area ex spi.
The Topper Topaz 14 CAT is available in a couple of setup options, please go to the official site www.toppersailboats.com to see the full range of options. We are here to help too, feel free to get in touch and we can help with pricing and details, please call +852 2827 5876 or use our contact page.