Hartley Supernova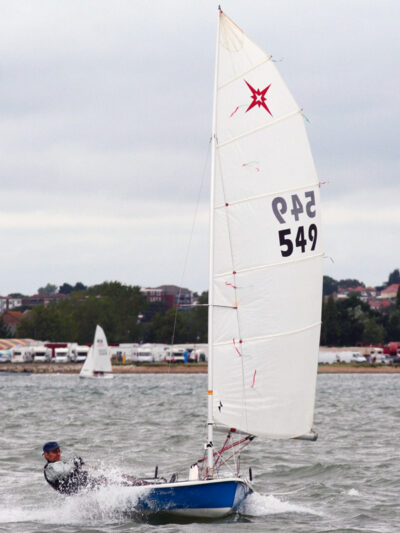 The new sleek Hartley Supernova is now beautifully built in epoxy and weighs in at just 50KG making the Supernova one of the fastest and best performing single handed dingies you can sail without the added complications of wings or trapeze wires. The Supernova combines a sporty performance that can be sailed with exceptional ease, style and above all, comfort. The high boom position enables the dagger board to be raised almost fully for easier launching and recovery. Further, the mainsheet is sheeted from the centre of the cockpit directly to the mid-boom position. Therefore it doesn't catch on the transom which is a particular advantage especially when gybing downwind. The cockpit is large and open ended so it self drains and eliminates water almost instantly. The high boom provides an advantage for taller sailors.
Though powerful, the superb Mylar sail coupled with a light sealed mast is challenging but quite manageable for most helms in almost all wind conditions. A reduced size soft sail option is available for lighter helms or those wishing to sail in exceptionally heavy winds. Suitable for average and larger sailors when racing and in the same vein enjoyed by one or two people leisurely cruising. The new light weight Supernova takes the back ache out of launching and recovery and makes manoeuvring the boat on the trolley or around the dinghy park a breeze.
Hartley Supernova Features
High performance
Super rig
High boom
Continuous controls lines
Self draining cockpit
Roomy cockpit
Very easy to right
Ball bearing blocks
Low weight epoxy build
Sensational style
One design
Sealed mast
The Hartley Supernova is available in a number of setup options, please go to the official site www.hartleyboats.com to see the full range of options. We are here to help too, feel free to get in touch and we can help with pricing and details, please call +852 2827 5876 or use our contact page.