Topper Topaz Omega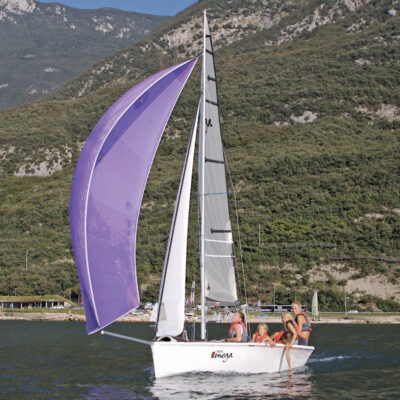 The Topaz OMEGA is the ultimate family day sailor. She provides you with so many sailing options. She's equally happy cruising or pottering, racing or blasting. Fast, fun sailing with a gennaker and trapeze or on the other hand a relaxed day with your family and friends. The famous hull stability means that Omega sailing is always fun, relaxing and also drama free.
The OMEGA is one of the most successful boats in the Topper Range, it is a fantastic all rounder that everyone can enjoy. The reasons for the popularity of the Omega are that it is so versatile, easy to rig, launch and also sail. It is a family sailboat that provides rewarding performance with space, comfort, stability and security for six family and friends. Customers also appreciate the low levels of maintenance and incredible value for money.
Topper Topaz Omega Features
Spacious cockpit comfortably holds up to six people of any size
Safe, stable and reassuring hull shape
Additional built in buoyancy and high freeboard ensure perfect sailing without the boat taking on water
The lightweight pivoting sandwich centreboard makes for easy, family-friendly sailing
High boom makes the boat feel comfortable and spacious. Boom is just the right height to clear small children
Gnav system as standard means the size of the cockpit is even further optimised
Handy storage compartments in cockpit and also transom areas
Optional outboard bracket and standard storage locker inside the boat
Slab reefable mainsail allows power to be controlled depending on conditions and user ability
The flotation device, fitted at the head of the sail, removes the risk of total capsize
Furling jib is simple enough for a beginner to use and fitted as standard
Supremely efficient single-line gennaker system enables effortless launches and recoveries
Fantatsic control systems are childs play
Sails are available in Dacron for a beginner sailing family or Mylar for more experienced parents teaching children
Trapeze kit as optional
Hinged mast step for easy rigging by just one person
Lightweight hull is easy to launch and recover
Specifications
| | |
| --- | --- |
| Length | 4.70m |
| Beam | 1.88m |
| Crew | 1-7 |
| Hull weight | 160kg |
| Construction | Topaz TRILAM |
| Sail Area ex spi | 14.02m2 |
| Main | 10.27m2 |
| Jib | 3.75m2 |
| Spinnaker | 14.66m2 |
| Trapeze | Option |
| Level | Novice-Racing |
The Topper Topaz Omega is available in a couple of setup options, please go to the official site www.toppersailboats.com to see the full range of options. We are here to help too, feel free to get in touch and we can help with pricing and details, please call +852 2827 5876 or use our contact page.