RS21 – Progressive keelboat solution for club programs and also sailor teams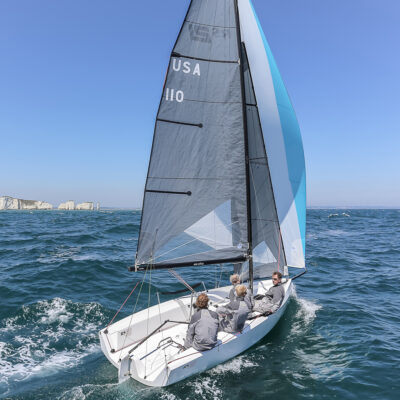 The RS21 responds to the need for a progressive, simple and affordable solution for keelboat clubs that increasingly see the opportunity for fleet ownership, league competition and also training. On the other hand individuals can team up and do it together. The RS21 is specifically designed for fleet purchase, with attributes that will appeal to individual buyers as well. Moreover, it puts close racing over ultimate performance. It maximizes low maintenance, value and also pure sailing enjoyment. This is the boat to bring wider availability and above all, popularity back to keelboat racing. Realistic costs allow appealing club charter fees or on the other hand, affordable investment by syndicates of sailing friends. In short the RS21 is a safe purchase and assured of success.
RS21 Features
Overarching Design Goals
Progressive design for simple and affordable club, also syndicate ownership
Balanced, quick and further, enjoyable sailing as a team
Evenly matched, close racing prioritized over ultimate performance
Robust and simple to maintain – efficient fleet operation
Sustainable aspects designed and built in
Hull
Eco-friendly construction using bio derived resins and also recycled core materials
Maximum waterline length
Balanced rocker line for good performance across the wind range, subsequently at the expense of maximum speed at one end or the other
Pronounced chines add form stability as the boat heels and also sheds water for a drier ride
Foils
Lifting bulb keel – encapsulated in GRP skins
Removable internal keel crane
Composite transom hung rudder, also removable
Deck
Large open cockpit with comfortable space for four crew and more
Open transom for rapid draining
Layout and systems allow handling by two crew if required
Minimal obstructions reduce bruises
Large central hatch for stowage of sails etc within the boat, therefore adding operating efficiency
Centre mainsheet can be trimmed by helm or crew
Kick bars give ergonomic and secure positions for all crew
No-hiking rule aids racing enjoyment, communication and also widens strategic input
Deck designed to allow one hull to stack on another – for efficient event transport and improved sustainability aspects
Rig
Carbon composite mast reduces weight aloft and also improves handling
Light weight and pivoting heel make the mast easy to raise by hand
Durable aluminium alloy boom
Carbon composite bowsprit
Quick to rig – 20 minutes from trailer to launch ready
Durable construction Club sails & also larger Race sails options
Mainsail with single slab reef system in club spec
Trouble free hanked-on jib
Sail Handling Systems
Large cockpit with comfortable space for 4 crew and more
Simple layout with clearly understandable controls
Large gennaker bag for efficient hoists / drops
Electric Propulsion System (optional)
Torqeedo motor system integrated into hull & deck design
Sits almost invisibly behind the keel / under the mainsheet system
Prop leg can be raised while sailing – bottom fairing plate closes the hull recess
Central speed control unit & removable / rechargeable battery pack
Electronics / Innovative Community
Built-in data logger – capable of sending info to a remote online site
Allows communication between owners, crew and also other participants
Share anonymized data – compare performance – learn – improve
Speed / depth functions – display mobile devices
Specifications
Standard

Optional
| | | |
| --- | --- | --- |
| | | RS21 |
| Length | 6.34m (20'11") | |
| Beam | 2.20m (7'3″) | |
| Draught | 1.38m (4'6″) | |
| Displacement | 650kg (1433lbs) | |
| Hull construction | Eco-friendly composite | |
| Keel | Lifting – with bulb | |
| Rudder | Removable – composite | |
| Mainsail area – Race | 16.2m² (175ft²) | |
| Jib area – Race | 8.4m² (90.4ft²) | |
| Gennaker area – Race | 40m² (430.5ft²) | |
| Mainsail area – Club | 16.2m² (175ft²) | |
| Jib area – Club | 8.4m² (90.4ft²) | |
| Gennaker area – Club | 35m² (377ft²) | |
| Spinnaker area – Club | 30m² (322.9ft²) | |
| Mast | Carbon composite | |
| Shrouds & forestay | Stainless steel wire | |
| Halyards – Main, jib, gennaker | Dyneema/polyester | |
| Boom | Aluminium alloy | |
| Bowsprit | Carbon composite | |
| Deck stowage hatch | | |
| Gennaker bag | | |
| Mooring eyes x 3 | | |
| Sheets – Main, jib, gennaker | | |
| Vang/cunningham/outhaul | | |
| Mainsail slab reefing | | |
| Installed data logger for cloud community | | |
The RS21 is available in a couple of setup options, therefore please go to the official site www.rssailing.com to see the full range of options. We are also here to help too, feel free to get in touch and we can help with pricing and details, please call +852 2827 5876 or use our contact page.