RS700 Single Hander Skiff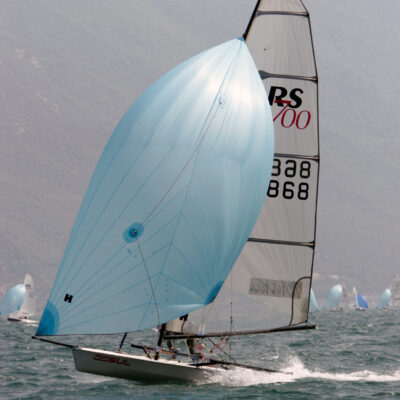 The RS700 is a super quick trapezed genneker weapon – yet is also the most user friendly single handed skiff by far. Not a bad trick.
Performance equalisation means that winners can be large or small, giving great racing and big atmosphere on the sponsored RS Racing Circuits. There is a cult following for this RS gem and it's easy to see why.
RS700 Features
Hull
Moderate hull form with little tendency to nosedive
Flared topsides for reserve stability
Tried and tested RS epoxy sandwich construction system – ultra-light weight, long competitive life and virtually zero water absorption.
Spinnaker chute mounted as far aft as possible to keep the weight back and the spinnaker clear of the water
Cockpit design allows a secure helming position from which to initiate manoeuvres or hoist and drop the spinnaker – a crucial design element to make the boat more user friendly
Spinnaker hoisting and dropping made simple by the large chute mouth and pump action halyard system
Rig
Carbon composite mast. Ultra-light weight with dynamic gust response in the tip
Mainsail has a long luff for efficiency and power
Only one full length top batten, plus three short battens for a "soft" configuration and light, user friendly rig
Mylar sail fabric for strength, low stretch and high visibility
Effective rake and flattener system reduces the power to make the boat more controllable in strong winds
Asymmetric spinnaker – high aspect for low sheet loads and good visibility. Silicone coated fabric makes hoists and drops easier – extends the life of the sail.
Downwind performance is simply sensational
Foils
Dagger board can be raked to balance the boat in a breeze when sailing with the rig de-powered
Lifting rudder for easy launching and recovery
Sophisticated GRP sandwich construction gives strong, light, high performance foils
Performance equalised racing
Performance equalisation system with adjustable width wings means winners genuinely can be big or small
Specifications
Standard

Optional
| | | |
| --- | --- | --- |
| | | RS700 |
| Length | 4.68m (15'5″) | |
| Beam | 1.92–2.23m (6'4″–7'8″) | |
| Hull Weight | 56kg (123lbs) | |
| Sailing weight | 79kg (174lbs) | |
| Sail area – mainsail and jib | 12.8m² (127ft²) | |
| Sail area – spinnaker | 16m² (166ft²) | |
| Hull construction | Epoxy GRP foam sandwich | |
| Spars | Carbon composite mast. | |
| Sails | Mylar / kevlar semi battened mainsail. Twin patch radial cut spinnaker. | |
| Foils | Daggerboard and lifting rudder. GRP foam sandwich. | |
| Harken deck fittings | | |
| Intermediate wing bars | Pro-gripped | |
| Continuous kicker | | |
| Staymaster lowers | | |
| Top cover | Breathable polycotton | |
The RS700 is available in a couple of set-up options, please go to the official site www.rssailing.com to see the full range of options. We are here to help too, feel free to get in touch and we can help with pricing and details, please call +852 2827 5876 or use our contact page.