RS200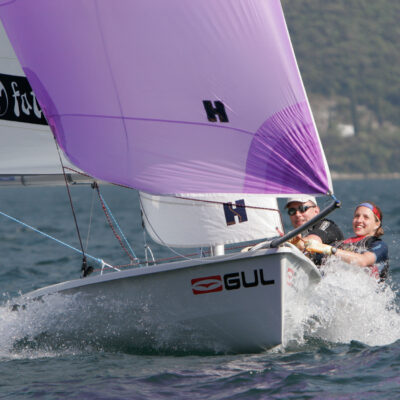 One of the most successful double handed race classes of the modern era – the RS200 responds to finesse and dedication rather than physique to allow couples and young teams to share the action.
On the open sea or the smallest of lakes, the success of the RS200 is proof that it is by far one of the most popular boats sailed today. The 200 has a huge following and is raced passionately by hundreds of keen sailors making the competition at Opens an amazing experience.
Exciting performance, responsive handling and a fantastic circuit make the RS200 a legendary doublehander that everyone wants to sail.
RS200 Features
Hull
Spacious and deep cockpit for comfortable hiking
Toe straps adjustable for both height and reach
Thwart gives comfortable light wind crew position.
Open transom allows the RS200 to virtually self drain after a capsize and a moulded self bailer quickly removes remaining water
Immensely strong hull laminate ensures a long competitive life
Fittings layout designed for all combinations of strength and experience in the helm and crew.
Either sailor can perform important functions such as spinnaker hoists / drops – cunningham – vang
Top quality fittings
Foils
Pivoting centreboard and rudder for easy launch and recovery
GRP sandwich construction for strong, light, high performance foils.
Rig
Superb rig design giving power control and  a broad competitive weight range
Excellent handling in all conditions
Mylar mainsail with soft full-length battens to reduce "ragging" and extend the life of the sail – yet allowing the sail to de-power at rest.
Dacron jib is easy to "read" in light winds. Low sheet loads so even the lightest of sailors enjoy the ride
Asymmetric spinnaker with single line hoist and drop system
Specifications
Standard

Optional
| | | |
| --- | --- | --- |
| | | RS200 |
| Length | 4.0m (13′) | |
| Beam | 1.83m (6′) | |
| Hull Weight | 88kg (194lbs) | |
| Sailing weight | 114kg (251lb) | |
| Sail area – mainsail and jib | 11.52m² (124ft²) | |
| Sail area – spinnaker | 8.29m² (89ft²) | |
| Hull construction | Polyester GRP with Coremat | |
| Spars | Aluminium alloy | |
| Mylar main | Fully battened mainsail | |
| Dacron jib | | |
| Asymmetric spinnaker | Twin patch cross cut gennaker | |
| Foils | Pivoting centreboard and rudder. GRP and foam composite. | |
| Harken deck fittings | | |
| Continuous 16:1 kicker | | |
| Capsize righting lines | | |
| Top cover | Breathable polycotton | |
The RS200 is available in a couple of set-up options, please go to the official site www.rssailing.com to see the full range of options. We are here to help too, feel free to get in touch and we can help with pricing and details, please call +852 2827 5876 or use our contact page.