Hartley 12.2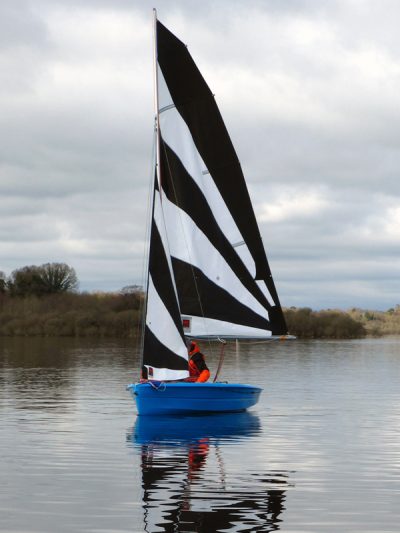 The 12.2 completes the trio of Hartley boats in this exciting new range of rotomould sailing dinghies. Similarly to its stable mates the 12.2 is a very easy to manage and delightfully responsive dinghy. Particularly suited to those in the early stages of sailing. The Hartley 12.2 shares the same basic hull and layout as her sister the Hartley 12 but the exciting difference is that this boat can be sailed with a 3 sail plan. In addition it accepts either a symmetric or asymmetric spinnaker.
Design
With a wide beam and deep hull shape this little gem is the ideal platform for experiencing the thrills of asymmetric sailing. The sleek hull lines and centreboard configuration result in a fast moving and exciting ride for experienced sailors. While the wide beam and deep hull shape provide a more stable learning platform for beginners.
The Hartley 12.2 can be sailed with one, two or three sails depending on experience, the wind or number of crew. The H12.2 Trainer comes complete with mainsail and jib with the option of also adding a spinnaker.
The deep hull shape enables you to sit-in this dinghy which is a far more comfortable sailing position for adult sailors! The high boom position makes for much better all around visibility. Therefore less bumps on the head for beginners. The attractive hull shape moves swiftly over the water and self drains effortlessly.
The Hartley 12.2 has a centreboard rather than a dagger-board to enable easy launching. Having a centreboard and an easy up-and-down rudder gives this boat a distinct stability advantage over other dinghies of this size and this feature is particularly helpful in shallow water during launching and recovering. The mast comes in two pieces for ease of transport on a car top or road trailer.
Features
Very stable, manageable & also forgiving
Deep roomy cockpit – kind to knees & back
Ample crew space – low centreboard case – high boom – greater comfort
High boom, better head clearance & visibility
Centreboard for maximum control – ease of launch & recovery
Dry boat – splash deflecting gunwale – self draining cockpit
Easy to right after capsize – does not invert unless you sit or stand on mast
Clear open transom – no fear of entrapment
Comes upright with very little water in cockpit which quickly drains through self drainers
Mainsail easily reefed
Soft sail or high performance sail options
Asymmetric or conventional spinnaker options available
Designed specifically for training & development
Sailable by 1, 2 or also 3 people
New generation rotor mould design – historic build problems now eliminated
Specially designed gunwales to lift & grip securely – no accessory handles to break
Excellent hull shape that sails over waves effortlessly
Manageable weight – not too heavy to manoeuvre on shore
Attractive design appealing contemporary boat look
Suitable for beginners, intermediate, adult & youth
Specifications
Length – 3.70m (12′)
Beam – 1.55m
Draught – 1.10m CB down, 0.17m CB up
Weight – 62kg
Max. Capacity – 2 People
Main Sail Area – 7.1m2
Performance Main Sail Area – 7.5m2
Jib – 2m2
Asymetric Spin. – 7m2
Safety
The Hartley 12.2 dinghy is a wonderfully comfortable boat to sail. The balance and synergy between the hull and the sail area make it a very stable boat that is less likely to capsize than other boats of this size. However part of the excitement of sailing is the ever present possibility of becoming overpowered by the forces of nature and the inevitable capsize that follows. This very nature of dinghy sailing requires that we must always be able to right a boat after a capsize. Naturally the easier we can do this the safer it will be.
Capsizing
If and when you capsize this dinghy you will be pleasantly surprised at the ease with which you can right it. The buoyancy placement and hull shape result in this dinghy staying in the half way position for a very long time, giving you ample opportunity to get yourself safely into the recovery position. Moreover, even from an in water position it is easy to get onto the centreboard by using the moulded shapes in the hull as hand and foot holds. Once on the centreboard the boat comes upright with minimal effort, even single handed, with the aid of the built in righting lines.
During capsize tests we found it remarkably difficult to make this boat invert. Most importantly the high transom arches and lack of any obstruction at the transom provided a clear and unobstructed escape route should anyone end up under the boat. Moreover, having the mainsail sheeted only from the centre of the boat has a distinct safety advantage because it eliminates the likelihood of entanglement in a stern bridle & mainsheet configuration.
After a capsize, because of it's unique shape and open transom design, the boat comes upright with minimal water in the cockpit, it can then be safely sailed away on any point of sail to eliminate the small amount of water that remains.
The Hartley 12.2 is available in a number of set-up options, please go to the official site www.hartleyboats.com to see the full range of options. We are here to help too, feel free to get in touch and we can help with pricing and details, please call +852 2827 5876 or use our contact page.