RS Elite Keelboat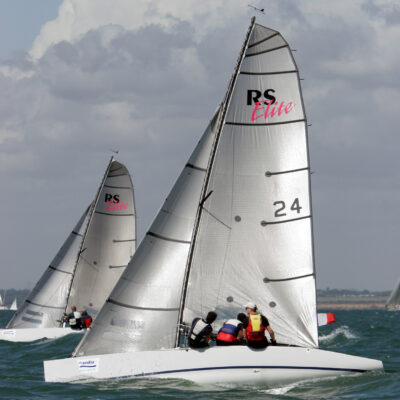 Great Class events and hugely enthusiastic owners combine with a keelboat that handles beautifully, requires minimal maintenance and can be raced by men and women of most ages. The RS Elite Keelboat is Stunning.
This modern classic style keelboat is simply delightful to sail and offers close tactical one-design racing and competitive handicap performance.
The easily driven hull, with high ballast ratio, is both forgiving and fast – quicker around the track than many more extreme sportsboat classes. Yet the RS Elite can be handled by men and women across the age range, with low loads and an efficient layout.
RS Elite sailors love their boats – and once you've sailed one or, even better, been to an event, it's easy to understand why.
RS Elite Keelboat Features
 Keelboat racing at its best
Beautiful to look at and sail
Simple to crew and maintain
Fast, tactical racing within club fleets, championships and major regatta weeks
Beautiful handling
Finger light steering and 60% ballast ratio make the RS Elite a joy to sail
Fine bow, long narrow hull, balanced rudder and easily controllable rig ensure the boat is easily driven
An easily driven, balanced boat achieves speed without drama
Performance
High pointing and fast upwind – downwind pace that surprises many
Excellent VMG around the track – rewarding when one-design racing – a weapon on handicap
Convenience
The RS Elite maximises the pleasure of a racing keelboat by minimising the hassles:
Low maintenance – means more time on the water. All GRP construction – encapsulated bulb keel – simple systems
Small crew – typically sailed by three, so finding crew is easy
Anyone can race – low loads and weight tolerant design allow mixed teams across the age range
No hiking rule – finesse rather than strength is required
One Design – RS Elite racing is close and tactical. Win on the water, not at the bank.
Production controls and Class Rules ensure all boats perform the same – out of the box
Self draining and unsinkable
Easy to tow – behind a medium size car
Hull Design and Construction
Long and narrow for maximum waterline length and minimum form resistance. The helm remains finger-light at all times, even when heeled
The narrow hull and no hiking rule mean that crew weight is unimportant. As soon as the boat heels the crew are virtually above the centre of gravity, contributing little to righting moment.
Solid GRP laminate for impact resistance and durability.
Sub-floor moulding to distribute the rig and keel loads
GRP moulded keel and rudder skins mean all foil shapes are identical
Encapsulated lead keel bulb with stainless steel support structure – slots into a hull recess and through bolted from the cockpit – exceptional strength
Single lift point for easy launching
Rig
The easily driven hull does not require a big rig to attain great performance. This in turn helps to make the shallow draft possible and the rig manageable by both sexes
The light, carbon fibre mast has a pivoting heel plug and can be raised by hand
Rigging is fast – ready to sail around 30 minutes after arriving at a regatta
Single swept back spreaders and no backstay give a simple, responsive rig that can be easily tuned.
Rig tension is applied to the forestay via a cascade purchase concealed under the foredeck and adjusted in the cockpit
Boom and spinnaker poles of aluminium alloy for durability.
Sail handling systems
Jib hanks onto the forestay – tack downhaul lead to the cockpit – self-tacking for simple manoeuvres – 4:1 sheet purchase keeps loads in check.
Mainsheet track across the aft deck – sheet leads forward along the boom to a jammer in the centre of the cockpit – helm or middle man can trim.
Vang and cunningham lead to the middle of the cockpit on both sides.
Spinnaker launching from a chute forward of the forestay – hoists and drops take seconds
Pole system operated from the cockpit – stowed on the boom
Spinnaker sheets lead to the middle of the cockpit within reach of all crew
Specifications
Standard

Optional
| | | |
| --- | --- | --- |
| | | RS Elite |
| Designer | Phil Morrison | |
| Length | 7.4m (24'4″) | |
| Beam | 1.72m (5'8″) | |
| Draft | 1.1m (3'7″) | |
| Displacement | 975KG | |
| Sail area – mainsail and jib – radial cut mylar | 23.5m² (250ft²) | |
| Sail area – spinnaker radial cut | 25m² (266ft²) | |
| Mast – carbon fibre | | |
| Boom – aluminium alloy | With pole stowage | |
| Spinnaker pole – aluminium alloy | Double ended | |
| Twin spinnaker poles | Single ended | |
| Keel with GRP skins and encapsulated lead bulb | 62% ballast ratio | |
| Rudder – balanced spade | Alloy tiller + extension | |
| Self-tacking jib track and traveller | Control line led to cockpit | |
| Mainsheet track and traveller – full width | Controls led to cockpit | |
| Vang – Downhauls – Travellers – Pole controls | Led to cockpit | |
| Spinnaker chute | | |
| Single lift point | On cockpit sole | |
| Bow & stern mooring eyes | | |
The RS Elite is available in a couple of set-up options, please go to the official site www.rssailing.com to see the full range of options. We are here to help too, feel free to get in touch and we can help with pricing and details, please call +852 2827 5876 or use our contact page.