Hartley Byte CII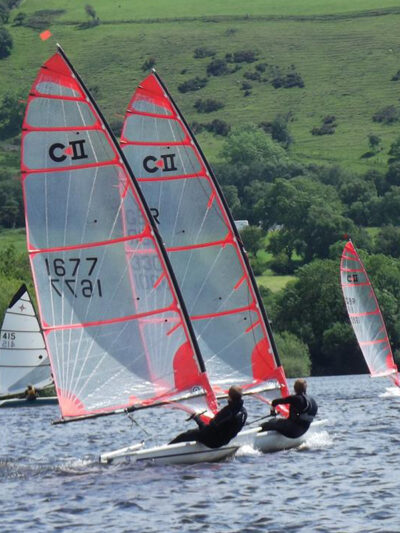 Beautifully built with GRP using a foam sandwich construction, the Byte CII weighs just 45.5KG. In addition the high boom position enables the daggerboard to be raised almost fully for easier launching and recovery. The mainsheet is sheeted from the centre of the cockpit directly to the mid-boom position so it doesn't catch on the transom which is a particular advantage especially when gybing downwind. The cockpit is large and self drains quickly, the high boom is also a distinct advantage for taller sailors.
The superb fully battened 2mm laminated Mylar sail is coupled with a specially designed 2 part Hybrid mast, made from Carbon at the bottom for stiffness and from Glass fibre in the upper section to allow flexibility.  The flexibility in the upper section allows the rig to automatically de-power by spilling wind from the top of the sail when the rig becomes overpowered. This specially designed rig  makes the Byte CII much more manageable for lighter helms in heavy winds. Suitable for mid-weight sailors when racing, and enjoyed by one or two people for leisurely cruising. The new lightweight Byte CII takes the back ache out of launching and recovery, therfore manoeuvering the boat on the trolley or around the dinghy park is very easy.
Features
High performance
Super self de-powering rig
Mylar fully battened sail
High boom
Control lines side mounted
Self draining cockpit
2 part hybrid mast, Stiff Carbon lower/flexi Glass upper
Easy to right
Ball bearing blocks
Low weight
GRP Foam sandwich construction
Specifications
Length – 3.60m
Beam – 1.3m
Hull weight – 45.5kg
Max. Capacity – 2 People
Main sail Area – 6.8m2
The Hartley Byte CII is available in a number of set-up options, please go to the official site www.hartleyboats.com to see the full range of options. We are also here to help too, feel free to get in touch and we can help with pricing and details, please call +852 2827 5876 or use our contact page.