Topper Topaz Vibe and Vibe X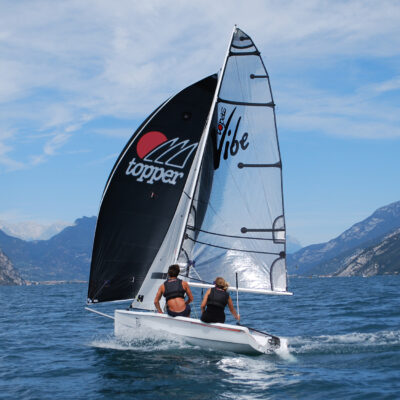 The Vibe offers a great introduction to performance sailing. It is designed as a hiking performance double hander but can also be sailed with the addition of a single trapeze. The Mylar mainsail area can be reduced by up to 20% using the innovative zip reefing system, meaning that the boat can be altered to suit virtual novices, club racers and even set up as a singlehander.
The Topaz Vibe's cleverly designed hull lines and beamy hull make it stable and secure whilst still offering a fast, fun adrenaline rush. Using the groundbreaking Topaz construction technology, the VIBE also boasts an ultra-robust hull that requires virtually no maintenance and at a fraction of the cost of any GRP equivalent. And it comes with a three-year hull warranty.
The spacious cockpit offers roomy and comfortable sailing and it's the perfect size for youngsters or adults. In short, the Topaz Vibe makes a great value, high performance boat versatile enough for sailors of any level and age to use.
A more powerful Vibe X rig is also available. The VIBE X utilises the same hull as the original Vibe which has proven to be exceptionally stable, light and compact – with the addition of a larger and more powerful rig. The extra power which allows the boat to plane even earlier and sail even faster is ideal for lighter wind conditions, heavier sailors or to challenge crews as they grow in confidence.
Topper Topaz Vibe Features
Great value hiking boat which offers a great introduction to performance sailing.
Rig options to suit beginners, club racers and one or two crew.
Extra WIDE BEAMY HULL to handle power and guarantee comfort.
CHINE TECHNOLOGY means the VIBE stays afloat when competitors capsize.
ZIP REEFING system for the Mylar mainsail enables up to 20% reduction in sail area, meaning the boat can easily be sailed singlehanded.
Spacious and well equipped cockpit.
Safe, stable and reassuring hull shape.
Additional built in buoyancy and high freeboard ensure perfect sailing without the boat taking on water or nose diving.
User friendly lightweight centreboard for super simple launching and retrieving.
Gnav system as standard means the size of the cockpit is even further optimised.
The flotation device, fitted at the head of the sail, removes the risk of total capsize.
Sealed one piece mast for further capsize protection.
Hinged mast step for easy rigging by just one person.
Much admired single-line gennaker system enables effortless launches and recoveries.
Fantatsic control systems keep things simple and are easy to use.
Proven, ultra strong floating foils.
Proven lifting rudder system is childs play.
Lightweight hull is easy to launch and recover.
Carefully designed combi trailer for an easy-life ashore.
TRILAM technology unique to Topper gives unrivalled strength to weight ratio and great uniformity, buoyancy, stiffness and durability.
Three year hull warranty.
Specifications
| | VIBE | VIBE X |
| --- | --- | --- |
| Length | 3.80m | 3.80m |
| Beam | 1.66m | 1.66m |
| Crew Capacity | 1-3 | 1-3 |
| Racing Crew | 2 | 2 |
| Hull weight | 80kg | 80kg |
| Construction | Topaz TRILAM | Topaz TRILAM |
| Sail Area ex spi | 9.11m2 | 10.42m2 |
| Main | 6.90m2 | 8.12m2 |
| Jib | 2.21m2 | 2.30m2 |
| Spinnaker | 8.41m2 | 10.58m2 |
| Trapeze | Yes | Yes |
| Level | Novice-Racer | Novice-Racer |
The Topper Topaz VIBE is available in a couple of setup options, please go to the official site www.toppersailboats.com to see the full range of options. We are here to help too, feel free to get in touch and we can help with pricing and details, please call +852 2827 5876 or use our contact page.