Maverick Dinghy, SUP, Windsurfer All-In-One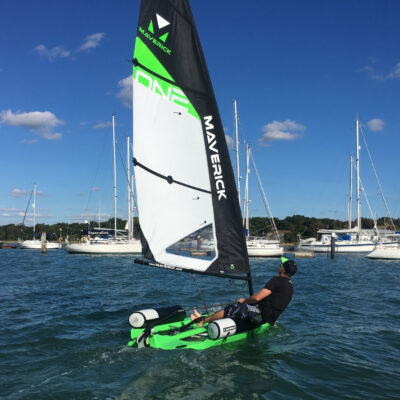 SUP, Stand-Up Sailing (SUS), Sail or Windsurf – All conditions are perfect for the Maverick! The guys behind this concept love wind and water-sports, which is why they worked tirelessly towards an all-weather conditions solution. Maverick is not just a new concept of dinghy, it is a windsurfer and when there is no wind a SUP.
This water craft would be an ideal addition to sailing clubs wishing to open up to less serious sailors, hotels with water access as well as junks and yachts.
The Maverick is available in two package deals, one with the 5m2 sail and one with the 6.25m2 sail. Both packages also come with an aluminium launching trolley and top cover.
Extra's include an SUP paddle, leash and fin as well as a windsurfing pack.
Boat Features
Skill Level: Beginner – Advanced
Hull Length: 3.35m / Width: 1.3m
Hull Weight: 43kg
Capacity: 1 – 2 Sailors
Hull Material: Polyethylene – Triple Foam Sandwich
Mainsail: 5m2 or 6.25m2 Dacron (reefable)
Mast, Boom, Rudder and also the Daggerboad all made from aluminium
Easy – You needn't be athletic or an expert to enjoy the Maverick's performance.
Fun – Not only modern design, the real innovation is the experience.
Cool – Deck deigned for stand-up sailing, paddling and windsurfing.
The Maverick is available in a number of setup options, therefore please go to the official site www.maverick.world to see the full range of options. We are also here to help too, feel free to get in touch and we can help with pricing and details, please call +852 2827 5876 or use our contact page.