Laser Vago & Vago Race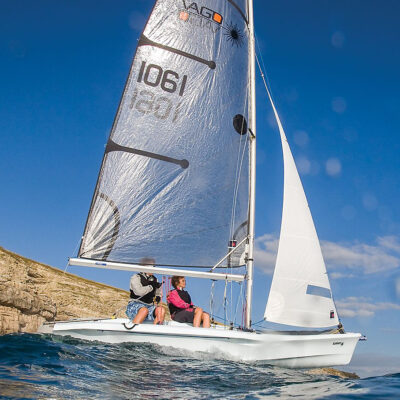 With a modern look, the Laser Vago provides the performance you'd expect for a rip-roaring ride! Easily sailed single or double handed, the Vago is surprisingly graceful in a breeze. She also durable with an almost indestructible rotomolded hull. This innovative hull keeps maintenance to a minimum and also has a sub-chine area to promote controlled planing, ensuring every ride is a blast! In addition, upgrade to the race version for a larger sail area and trapezes.
Features
Durable dacron sails
Line kit
Fibreglass foils
Aluminium spars
Single-line launch and retrieval system for the gennaker
High boom providing ample head room
GNAV Boom Vang Kicker
Single line reefing system and also a furling jib
Polyethylene Tri-Skin foam sandwich hull
Cockpit that supports both hiking and trapeze options
Interchangeable sails between race and leisure options with no need for extra rigging
Vago Race Extra Features
Durable dacron jib
Trapeze
Mylar main sail
Large race spinnaker
Specifications
Capacity: 1 – 3 People
Length: 13.94FT/4.25M
Beam: 5.12FT/1.56M
Draft: 3.77FT/1.15M
Sail Area: 81.38FT²/7.56M²
Vago Race Sail Area: 100.21FT²/9.32M²
Skill Level: Intermediate – Advanced
Race Level: Club – National
The LaserPerformance Vago is available in a number of setup options, please go to the official site www.LaserPerformance.com to see the full range of options. We are also here to help too, feel free to get in touch and we can help with pricing and details, please call +852 2827 5876 or use our contact page.