Laser 4.7 – Race and XD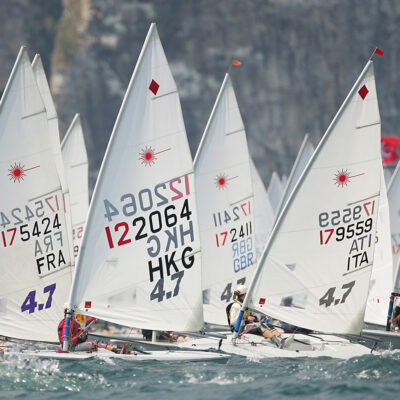 Recognized as a competitive youth class boat around the globe, the 4.7 is a great entry level racer for younger and lighter sailors entering into the Laser world. Often the next step after the Bug, Optimist or Pico, the 4.7 features the same hull as the Laser and Laser Radial, but a smaller sail plan to make it more manageable. The Laser 4.7 comes standard as the Race version and in addition can be upgraded to the XD version any time.
XD Version
An upgrade to the Laser XD version is also available for sailors who require "extra duty" high performance equipment on their Radial.
Features
Ice blue Fibreglass hull
Fibreglass foils
Aluminium spars
Line kit
Harken Race Cunningham/Outhaul kit
Harken Race Boom Vang Kicker
Gorilla tiller and extension
Class legal sail
Harken 60mm performance ratchet
Padded toe strap
XD Extra Features
Composite upper spar and aluminum lower spar
Harken XD Boom Vang Kicker system
Harken XD Cunningham/outhaul kit
XD carbon tiller and extension
6mm anti-twist dinghy mainsheet
Harken 57mm ratchet block w/ Mega spring
5mm SK90 dyneema traveler
Mega bolt for increased rudder to rudder head integrity
3mm dyneema dinghy control rudder downhaul
Specifications
Capacity: 1 – 2 People
Length: 13.81FT/4.21M
Beam: 4.49FT/1.37M
Draft: 2.62FT/0.8M
Sail Area: 50.59FT²/4.7M²
Skill Level: Beginner – Expert
Race Level: Club – International
The Laser 4.7 is available in a number of setup options. Please go to the official site www.LaserPerformance.com to see the full range of options. We are here to help too, feel free to get in touch and we can help with pricing and details, please call +852 2827 5876 or use our contact page.