Custom Belts for Crew and Regattas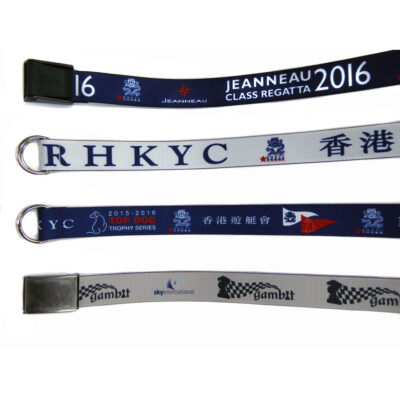 The perfect complement for any boats crew or regatta; these custom belts are ideal for sponsored events where branding needs to be seen.
Made in the USA to order, our Custom Belts have a number of buckle options as well as being capable of handling most boat or company's logo printing. Due to the nature of the material these belts dry quicker than traditional leather belts and do not rot when constantly exposed to salty water.
Sky can either take your boat name/logo and add it to the belts or work with you on any kind of design possible; the choices are endless.
Sky International work exclusively with the reputed belt maker Thomas Bates to supply the right quality and service.
With a low MOQ* these belts are perfect for Boat Owners, Class Associations, Clubs, Event Sponsors, Race Teams and Crew.
Custom Belts for Crew and Regattas Features
Good choice of buckles
Material more than stands up to salty water
One off designs make your belts unique
Sublimation printed material so colour options are endless
Ideal for regatta and event prizes or give-aways
Perfect for sponsors
Sky international also offers Custom Sailing Shirts, Custom Crew Shirts to see more.
Get in touch now for a consultation – +852 2827 5876 / web@sky-international.com
*MOQ is 36 belts (one buckle style), however the same design or logo can go over different coloured backgrounds. For example, 18 belts with a logo on blue and 18 belts with the same logo on red.