RS800 Skiff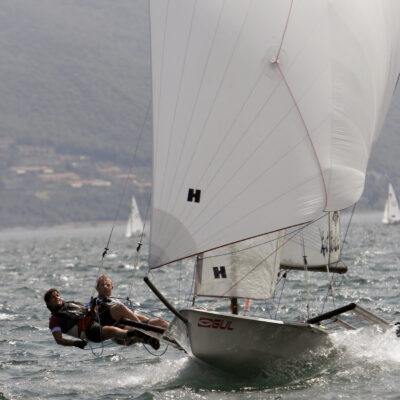 Extreme sailing – remarkable handling. The RS800 is a true double-handed skiff that allows both men and women to experience the thrill of real high performance racing.
By minimising weight and drag in the hull, the RS800 is powered to exceptional speeds using a manageable size rig. The result is a skiff that delivers the kind of performance most sailboat racers dream about – with highly competitive racing in big fleets and a very sociable class. Extreme, fast, competitive.
RS800 Features
Hull
Long and narrow on the waterline to reduce drag
Flared topsides give reserve buoyancy and forgiving handling
Cockpit design gives the helmsman a secure steering position while allowing run-through manoeuvres by experienced teams
Large gennaker chute forward of the jib tack for fast hoists with minimum loads
Incredibly light 62kg hull weight. Ready to sail the whole boat is a staggering 110kg light
High tech construction system uses the immensely strong RS epoxy foam sandwich system – with long competitive life
Foils
Daggerboard for low drag efficiency
Lifting rudder for easy launching
Sophisticated GRP sandwich construction gives strong, light, high performance foils
Rig
The light all-up weight allows exceptional performance from a moderate size rig – making the RS800 the attainable skiff class
Carbon composite mast – ultra-light and the flexible top section delivers excellent gust response
Sealed mast to reduce the tendency for inversion when capsized.
Mainsail and jib are built from light, strong and high visibility Mylar laminate.
Only the top two mainsail battens are full length, creating a light and forgiving rig
Self tacking jib ensures easy manoeuvres, especially offwind
Asymmetric gennaker design with relatively short foot to minimise sheet loads and a high clew to aid visibility.
Performance equalised racing
Performance Qqualisation System measures weight and leverage – and gives high speed close racing with both big and small winners. It works and is an integral part of the RS800's success
Mixed teams and joint events with other great RS classes mean the RS800 is the place to be for a complete skiff racing lifestyle
Specifications
Standard

Optional
| | | |
| --- | --- | --- |
| | | RS800 |
| Length | 4.8m (15'9″) | |
| Beam | 1.88–1.89m (6'2″–9'6″) | |
| Hull Weight | 62kg (136lbs) | |
| Sailing weight | 110kg (242lbs) | |
| Sail area – mainsail and jib | 16.5m² (172ft²) | |
| Sail area – spinnaker | 21m² (225ft²) | |
| Hull construction | Epoxy GRP foam sandwich | |
| Spars | Carbon composite mast. Aluminium alloy boom. Composite bowsprit. | |
| Sails | Mylar / kevlar semi battened mainsail. Fully battened jib. Twin patch radial cut spinnaker. | |
| Foils | Daggerboard and lifting rudder. GRP foam sandwich. | |
| Intermediate wing bars | Pro-gripped | |
| Continuous cunningham | | |
| Harken deck fittings | | |
| Top cover | Breathable polycotton | |
The RS800 is available in a couple of setup options, please go to the official site www.rssailing.com to see the full range of options. We are here to help too, feel free to get in touch and we can help with pricing and details, please call +852 2827 5876 or use our contact page.