Hartley Gull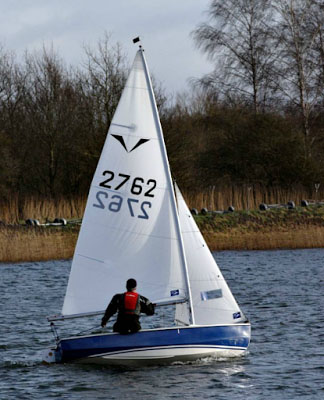 Small but mighty – the new Gull encompasses many of the time honoured features of the Wayfarer & Wanderer, only in a more compact form that lends itself well to local area or single-handed sailors who want all of those benefits but in a smaller more manageable package. A real delight to sail, the Gull brings endless hours of enjoyment to all who sail her.
The skilled craftsmen in Hartley Boats use modern expertise, in glass-fibre and polyester resin laminate construction (GRP), to manufacture these classic dinghies that were originally designed by Ian proctor in 1956. The incorporation of new technology and deck hardware ensures that the new Gulls are very easy to use and equally easy to maintain. The high quality GRP hard wearing finish means that, even with a minimum of care, your Gull will look and function beautifully for years to come.
Optional head buoyancy, easy reefing systems and ample built-in storage space make the Gull ideal for cruising, training and day sailing. An outboard engine and a set of oars can be used to provide alternative propulsion. The relatively small size and weight of the Gull (3.35m & 88kg), make it easy to launch and recover single handed and towing is quite manageable behind a small family car.
Welcome to the wonderful world of Gull sailing where endless fun awaits you in this fantastic dinghy.
Features
Over 50 years proven history
original Ian Proctor design masterfully updated by Phil Morrison
A beautiful boat built to last
A craft equally at home on the sea or on inland waters
Stability, nothing better in this size and type of craft
Sensitivity and responsiveness, a joy to sail
Room for four yet manageable by one
Very easy to right by one person
Firm favourite with beginners
Rear storage locker and seats all around
Superb for single handed sailing
Easy towed by small cars and launched by one person
Ideal for use with outboard motor. Easily rowed
GRP construction means she will last and last
Specifications
Length 3.35m
Beam 1.44m
Draft 0.91m
Weight 88.0 kg
Sail Area Main & Genoa 6.78msq
Spinnaker 5.57 msq
Portsmouth No: 1363 RN
Buoyancy
2 Side Tanks, 1 Forward Tank, 1 Aft Tank
Training Gull
The Gull is ideal as a training boat and it can be seen in many training schools throughout the UK. It is easy to sail, handles well in light and heavy winds. The boat is very forgiving. This allows newcomers to learn and get confidence in order to progress without getting wet all the time even when out in heavy winds. The high boom position makes it more comfortable for getting under during tacking and gybing manoeuvres.
Its spinnaker is an ideal size for the beginner. The optional roller reefing jib, slab reefing main and buoyancy head pad gives this boat the flexibility to be sailed single handed.
It's capacity to take up to 4 people makes this boat a popular choice. With over 50 years proven record Hartley are proud that this boat is the best in its field.
Cruising Gull
The Hartley Gull is a delightful dinghy to sail and to manage both on and off the water. Moreover, the design and layout make this a very forgiving boat, ideal for beginners. It is lively and responsive, enough to give the more experienced sailor plenty of fun and excitement.
The upgrading of the Hartley Gull design means that this dinghy is just as suited to pottering up a secluded back creek as it is in open water. The versatility of the Gull allows you to sail single handed or fully crewed. In addition it has a safety rating and room for up to four on board. The superb manageability when first sailing the Hartley Gull will quickly boost your confidence and encourage you to become more adventurous. Very soon you will be heading out in more challenging conditions or enjoying the delights of spinnaker sailing, confident in the knowledge that this lovely little dinghy can handle it all.
Design
The GPR construction means the boat will last and take the wear and tear of many people sailing her. In addition the return on investment is assured due to accidental damage being easy to fix.
The Hartley Gull is available in a number of setup options, please go to the official site www.hartleyboats.com to see the full range of options. We are also here to help too, feel free to get in touch and we can help with pricing and details, please call +852 2827 5876 or use our contact page.