About Sky International
Having specialised in boat, yacht and general marine chandlery since the late seventies, Sky International has the right experience, suppliers and stock to offer a high level of service and value to their customers. Sky International is a family owned and run company. Most of the Sky crew actively race and sail in Hong Kong and around Asia. Racing varies from representing Hong Kong at high level competitions to local racing in the world famous 'Fragrant' Harbour.
The Sky family are more than just sailors, they care about the health of sailing in Hong Kong and Asia. Sky staff are members of as well as being on committees and boards in a number of clubs and associations. When you combine all the experience and knowledge, Sky International are in a position to offer great quality of service.
Sky Internationals aim is to offer great quality products at competitive prices with sage advice, professionalism and friendly service.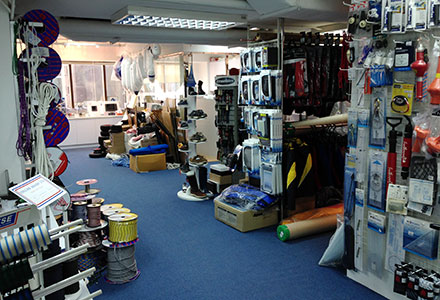 The shop's product range covers traditional chandlery such as blocks, cleats, rope, rigging, navigation tools to sail making equipment. Hi-tech items such as GPS, plotters, VHF electronics, AIS transducers, EPIRB's & PLB's are also available. Also sold are waterproof clothing, shoes, boots and nautical gifts.
Sky International provide specialist parts for many one design classes from Laser, RS Sailing & Topper through to keel boats like the Etchells, J80 and Flying Fifteen. Catamarans like the Dart 16 & 18 plus the Hobie 16 to dinghies like the 420, 470 are also served.
In addition Sky International supply a full range of ready to go dinghies & kayaks from a range of quality builders such as Hartley, LaserPerformance, Topper, RS Sailing, Dagger, Current Designs & Hobie.
Sky International also provide a number of options for marine safety equipment. The range is from buoyancy aids and lifejackets to life rafts and personal location devices.
About Sky Internationals Suppliers
Sky Internationals suppliers range from large marine manufacturers such us Crewsaver, Allen Brothers, RWO, English Braids, Kannad and Rutgerson, to smaller specialist companies such as Wiley Nautical books, Hawk, Optiparts, TexTech Cord ropes and many more. Sky can also handle custom sail making projects harnessing the wealth of knowledge and experience from Neil Pryde Sails. Projects range from high-tech membrane racing sails to Dacron sails built for extended bluewater cruising. The important thing about Sky's suppliers is that they supply quality products that work when they need to.