Hartley Osprey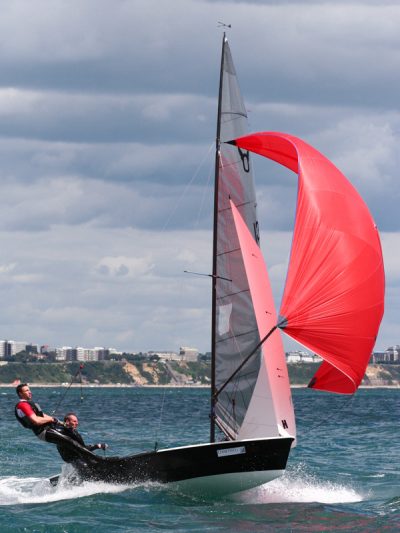 The Hartley Osprey is without doubt one of Ian Proctors greatest boats. Originally designed to be a contender for an Olympic Class in the early 1950s the Osprey was one of the very first trapeze boats.
Osprey Mark IV Design
The Osprey is a fast, exciting boat to sail.
The Osprey's 5.35 metre length gives it a longer waterline length than almost any dinghy class, and hence a higher maximum speed upwind. The Osprey's large over-lapping genoa quickly gets it up to maximum speed to windward. Off-wind, feel the acceleration from its generous, 17 square metre spinnaker.
Downwind, the Osprey is equally happy running straight before the wind, or heating up on broad reaches. Try three sail reaches for maximum thrills!
In many other classes, good helms and crews find themselves off the pace through being either too heavy or light.
The Osprey class attracts a breadth of crew weights which other classes cannot match. In Ospreys, larger crews may use stiff alloy spars, or may straighten their carbon masts, while lighter crews usually choose carbon spars, using more mast bend.  So big or small teams can be very competitive. Most Ospreys come with fully adjustable rigs, with rake, shrouds and mast strut all adjustable on the water. Hence, the Osprey attracts many mixed gender teams.
The Osprey is a big boat, hence a little heavier than smaller competitor boats, and it has great natural stability. It is a perfect boat on which to learn to trapeze, coping easily with big seas, but goes well in all wind conditions.
Hartley Osprey Features
Fast
One Design
Inexpensive
Real Value for Money
Boat Built to Last
User Friendly Controls
Roomy Cockpit
Sensational Styling
High Quality Fittings
Challenging with Outstanding Performance
Demonstrations always available
Specification
Length – 5.35m
Beam – 1.75m
Hull weight – 133.9kg
Max, Carrying Capacity – 4 People
Main sail Area – 9.30m2
Genoa sail Area – 4.65m2
Spinnaker Area – 17.2m2
PN Rating 940
Buoyancy
2 Side Tanks, 1 Forward Tank, 1 Aft Tank
The Hartley Osprey is available in a number of set-up options, please go to the official site www.hartleyboats.com to see the full range of options. We are here to help too, feel free to get in touch and we can help with pricing and details, please call +852 2827 5876 or use our contact page.