The Topper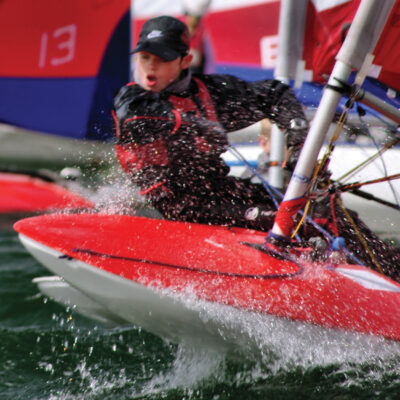 One of the key advantages that the Topper holds over any pretenders above all is the remarkable sophistication of the manufacturing process. The Topper hull is INJECTION MOULDED with incredible precision, reaching a level of uniformity quite outside the scope of any other production system – whether hand built or mass produced in GRP or rota moulded plastic. The material is polypropylene, which has proved to combine strength and flexibility with lightness as well as virtually everlasting life. Because of this proven reputation, resale values are extremely high.
Messing about on the river, having fun off the beach, flat out blasting, competitive racing and also starting from scratch. In short, everyone has their own reasons for sailing the sensational Topper. The Topper requires no maintenance, is easily rigged in a matter of minutes and is also cartoppable making it the most versatile of sailboats. Most importantly, any time at all, anywhere at all, the Topper is undeniably great fun.
In conclusion the Topper is a pedigree singlehander for junior, youth and lighter adults.
Topper Features
Lifting rudder
Powder coated spars
Side and centre toe straps
Red deck with white hull and also 3 year guarantee
Higher spec race rigged option is also available
Versatile singlehanded dinghy (capacity for two)
Perfect for fun family boat, racing and also learning
Cartoppable lightweight hull
Unique polypropylene injection moulded construction
Robust and maintenance free
RYA approved youth class
International recognised class status
Specifications
| | |
| --- | --- |
| Length | 3.40m |
| Beam | 1.20m |
| Crew Capacity | 1-2 |
| Racing Crew | 1 |
| Weight | 43kg |
| Construction | Injection moulded Polypropylene |
| Sail Area ex spi | 4.2 / 5.3m2 |
| Mast & Boom | Coated aluminium |
| Level | Novice-Expert |
The Topper is available in a number of colours and setup options, therefore please go to the official site www.toppersailboats.com to see the full range of options. We are also here to help too, feel free to get in touch and we can help with pricing and details, please call +852 2827 5876 or use our contact page.