Deckvest LITE Ultra Lightweight Lifejacket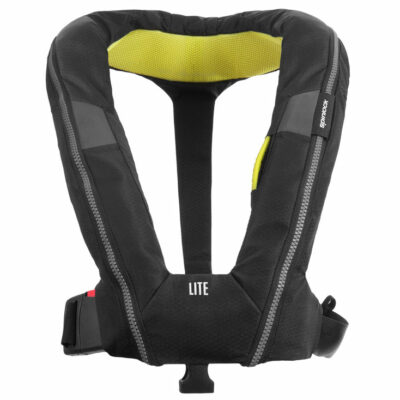 Deckvest LITE is a stunning, clean and also contemporary looking lifejacket. In addition there is the Deckvest LITE+, which includes a harness. Moreover the compact, lightweight and colourful design has fast become the lifejacket of choice across a diverse range of watersports enthusiasts.
Similarly with the same fit, fast adjustment and lean profile as the Deckvest lifejacket harness, its striking choice of colours, and anti-snag detailing create a clean and excitingly different look.
The DV LITE is perfect for kayaking or sailing in the many inshore areas Hong Kong and Asia have to offer.
Features
Ultra lightweight and low profile, comfortable design
Automatic inflating lifejacket
Easy side donning
Single crotch strap with recessed clip
Toggle attachment point for Chest Pack
Available in 5 colours: Black, Pacific Blue, Tropic White, Grenadine Pink and Flow Green
Optional Pylon Light – high intensity, water activated flashing LED Light. 23cm flexible antenna wand gives improved visibility above head & water
Optional Lume-On – Lifejacket bladder illumination lights
Also an optional Sprayhood – to reduce the risk of secondary drowning
Further, an AIS MOB1 is available to purchase as a stand-alone unit or supplied fitted integrated within a Deckvest
Easily converts to 'manual only' firing head with a Manual Conversion Kit
Through Life Support (TLS) Registration extends product warranty to 5 years
The Inflation System
The Deckvest LITE lifejacket uses a water activated UML Mk5 paper coil inflation system that uses a compressed paper capsule which dissolves when wet, which then releases a spring to puncture the CO2 cylinder.
The cap is designed so that only water flowing upwards through the unit will cause it to activate. Moreover water, spray and rain running down the jacket will not cause activation.
Please refer to the manufacturer's website for more information: www.spinlock.co.uk