Crewsaver Rescue Life Line – With 20m High-Strength Line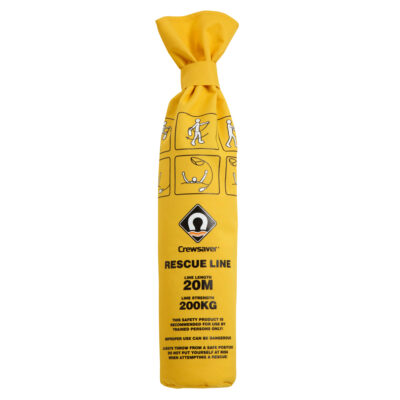 The Crewsaver Rescue Life Line is an essential piece of lifesaving kit that no boater should leave the dock without. Protected by a compact, durable and hi-visibility housing, the 20-metre lifeline is constructed from 200D nylon to guarantee strength and performance even in extreme conditions. Ideal for both yachts and also motorboats.
Crewsaver Rescue Life Line Features
High strength line, weather proof
20 metres length
Tough 200D Nylon outer fabric to guarantee strength
Bright yellow highly durable casing to keep it compact and easy to use
Clear illustrated instructions to help you in an emergency
Also available are similar items: Crewsaver Horseshoe Buoy, Rescue Sling and the Throwing Strop.
Please refer to the Crewsaver website for more information about the safety range as well as other products: www.crewsaver.co.uk