Crewsaver Rescue Sling – With 30m High-Strength Line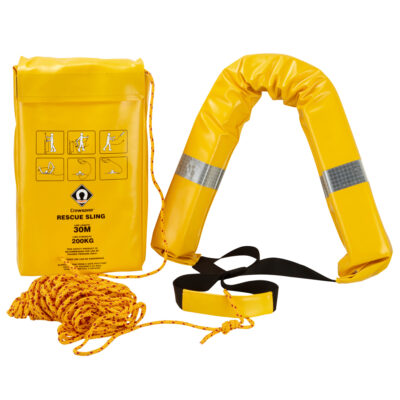 The Crewsaver Rescue Sling provides a pre-shaped design ensuring easy donning so that a casualty can be recovered from the water safely and quickly should you be in an unexpected Man Over Board situation. The Horseshoe Buoy is an essential piece of equipment in case of a man overboard situation. 30m high strength line can handle heavy loads easily. Ideal for both yachts and also motorboats.
Crewsaver Rescue Sling Features
Tough PVC outer fabric to aid long life
30-meter high strength line
High visibility yellow colour buoy
200kg Line Strentgh
Also available are similar items: Crewsaver Horseshoe Buoy and the Crewsaver Throwing Strop.
Please refer to the Crewsaver website for more information about the safety range as well as other products: www.crewsaver.co.uk