Crewsaver Throwing Strop – With 30m High-Strength Line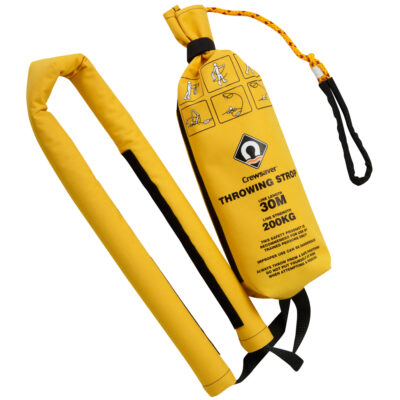 The Crewsaver Throwing Strop ensures a fast rescue with just one piece of equipment. The strop provides an innovative combination of both rescue line and lifting strop.  A unique padded lifting strop enables a comfortable and accurate recovery. The Throwing Strop is an essential piece of equipment in case of a man overboard situation. Ideal for both yachts and also motorboats.
Crewsaver Throwing Strop Features
Durable PVC outer fabric
30 metre high strength line
Strop attached with strong Velcro for ease when stowing and throwing
High visibility yellow colour
Also available are similar items: Crewsaver Horseshoe Buoy and the Crewsaver rescue Sling.
Please refer to the Crewsaver website for more information about the safety range as well as other products: www.crewsaver.co.uk