Ergofit 190N Offshore Hammar Lifejacket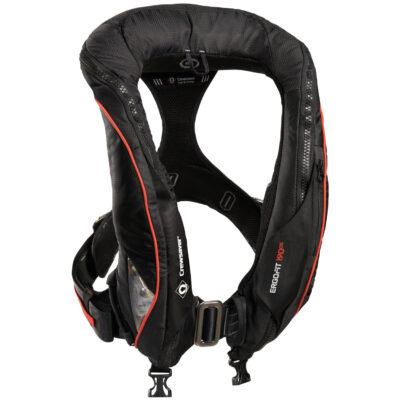 When you lose sight of land you need to be confident that your safety kit is the best on the market. Rigorous testing and re-testing ensures that the ErgoFit 190N Offshore Hammar Lifejacket more than exceeds ISO 12402-3 standards. A robust three-layer construction makes it extremely durable to cope with challenging conditions. Features include a pocket on the outer cover as well as a Velcro tab on the bladder for a Personal Locator Beacon like the Kannad R10.
By combining the dynamic cutaway design of the ErgoFit 290N Ocean model with the 190 Newton buoyancy of the 190N Coastal, the ErgoFit 190N Offshore Hammar is a lifejacket that you can trust however extreme it gets.
This lifejacket is ideal for all of the major offshore races including the RHKYC China Coast and Sea races as well as many of the regattas in Malaysia and Thailand.
ErgoFit 190N Offshore Hammar Lifejacket highlights
The ErgoFit 190N Offshore Hammar provides best-in-class buoyancy, which exceeds the ISO 12402-3 standards
Fast fix buckle adjustability offers exceptional comfort and ease of movement.
The ergonomic design of the ErgoFit is unisex but it is especially comfortable for women's contours, with
foam padding for maximum comfort.
One size fits all
Kit Includes:
Pocket for an EPIRB or other device
Velcro tab for attaching an EPIRB to the bladder
Integrated sprayhood and light fitted
Factory fitted thigh straps
Whistle
Mouth Inflation Tube
Quick access emergency safety line cutter
Size Guide
Hammar Automatic Inflation explained:
The Hammar Inflater gives excellent protection from random activation caused by moisture, rain or wave splash. This is achieved by protecting the water sensitive element with a hydrostatic valve, which operates when submerged in over 10cm of water.
Hammar works on water pressure, only operating when submerged in 10cm of salt or fresh water
No accidental inflation, even in extreme conditions
The CO2 cylinder is mounted on the inside of the Lifejacket inflation chamber
Re-arming instructions and key provided with each Re-arming Pack
Can also be inflated as manual version or orally as with all other Crewsaver lifejackets
Please refer to the Crewsaver website for more information about the lifejacket range and other products: www.crewsaver.co.uk. For product pricing and also stock availability please call +852 2827 5876 or contact us.