SOS Dan Buoy – Man Overboard Rescue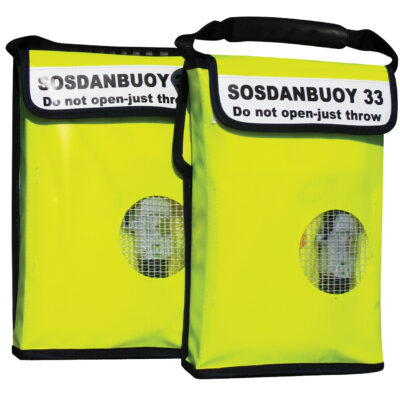 The SOS Dan Buoy is ready for instant deployment. The ultra fast and reliable self-righting properties ensure that just when time matters most, the SOS Dan Buoy is always ready.
It increases vital visibility and buoyancy for the person overboard. The SOS Dan Buoy system is compact, easy to use and also very visible. It folds away in an easily stowed carry bag.
Simply throw the unit into the water & within seconds of immersion, it automatically inflates and stands 2m above the water, the light automatically activates, highly visible up to a mile away, even in 2 metre seas.
In addition, webbing loops allow the casualty to put their arms around the marker to help support them when fatigued and giving them an extra sense of security & stability.
SOS Dan Buoy Features
Ready to go man overboard equipment
Packed into a compact portable valise and ready to use
Tested to elements of ISO 12402
Self contained disposable CO² inflation system, the same mechanism as an inflatable lifejacket
A large drogue reduces downwind drift
The SOS Dan Buoy marker allows the person overboard to place their arms through the webbing loops, giving an extra sense of security and stability, especially when fatigued, until help arrives
SOS Marine has made every effort to augment visibility. The fluorescent yellow, 2.5 metre streaming ribbon waves back and forth in a breeze, allowing it to be seen up to 1700 metres
Fitted with an automatic SOLAS light and SOLAS grade high-visibility, retro-reflective tape
Easy maintenance and service
Lightweight (4 kilos) compact for transport and also stowing on all vessels
Reusable and re-packable – only requires a 33g replacement cylinder and an activation cartridge
The SOS Dan Buoy has the extra benefit of removing the drogue and attaching an anchor, so it can be used as a temporary marker for wrecks, channels, and dive or crash sites, at sea
SOS Dan Buoy is smaller than a tackle box
Patented man overboard equipment
For full details of this product please go to the manufacturer's website here: www.danbuoy.com. For product pricing and also stock availability please call +852 2827 5876 or contact us.