Spinlock Deckvest Cento 100N Inflatable Child's Lifejacket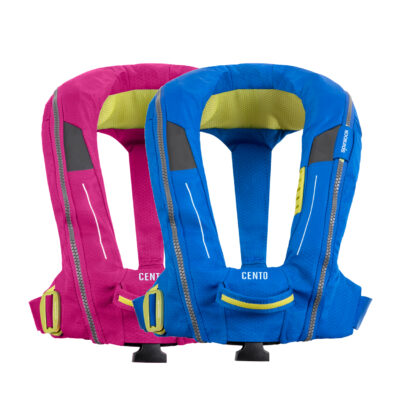 For too long junior sailors have been forced to wear bulky, uncomfortable and unattractive lifejackets when out on the water. Not any longer. The Spinlock Deckvest Cento is an ultra lightweight and low profile junior inflatable lifejacket for children and also teenagers.
The Cento is also upgradable with add on extras like the Pylon Light lifejacket light, Lume-On bladder illumination lights and also sprayhood. Storage packs, manual conversion kits and AIS are also possible depending on your particular requirements.
The Cento is perfect for sailing, power boating or kayaking in the many inshore areas Hong Kong and Asia has to offer.
Features
Junior 150N Category Lifejacket Harness (100N Actual)
20-50 kg weight
Recommended for juniors approximately 8 to 15 years old
Compact and lightweight with form fitting shape
Soft loop harness attachment point
Lightweight easy adjust belt
Single Crotch Strap
Automatic inflation
Attachment for Pylon Light
Attachment for sprayhood
Through Life Support (TLS) Registration extends product warranty to 5 years
Integrates with AIS MOB1 unit.
Compatible with Lume-On lifejacket illumination lights
The Inflation System
The Deckvest Cento lifejacket uses a water activated inflation system that uses a compressed paper capsule which dissolves when wet. It then releases a spring to puncture the CO2 cylinder which then inflates the bladder.
The cap is designed so that only water flowing upwards through the unit will cause it to activate. Moreover water, spray and rain running down the jacket will not cause activation.
Please refer to the manufacturer's website for more information: www.spinlock.co.uk. For product pricing and also stock availability please call +852 2827 5876 or contact us.