Kannad Marine SafeLink SOLO PLB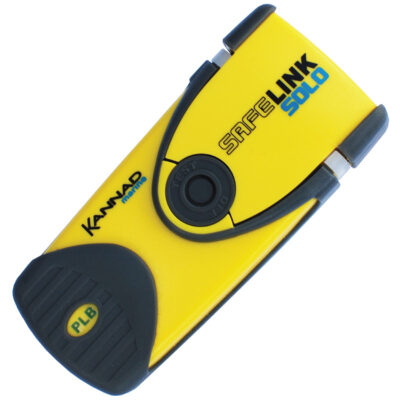 The SafeLink SOLO Personal Location Beacon (PLB) gives you direct contact with Search and Rescue services when a life threatening incident occurs anywhere in the world.
The SafeLink SOLO Category 2 406 MHz GPS Personal Location Beacon (PLB) takes your personal safety to a new level. Whether you enjoy sailing, diving or any outdoor pursuit which takes you to remote locations.
The Kannad Marine SafeLink SOLO is tough, ultra-small and also durable. In addition it is lightweight, compact and designed to be carried with you at all times. The size of the SafeLink SOLO and it's non-slip rubber armour means that the compact life saver can be tucked into a pocket, pouch or personal kit bag and forgotten about until needed. SafeLink SOLO is waterproof to 10 metres and activation is simple. The PLB comes supplied complete with a lanyard, a buoyancy pouch and a universal carry pouch. Users can attach the pouch to a belt or strap, keeping the SOLO close to hand.
Kannad Marine SafeLink SOLO PLB Features
FCC approved
Internationally approved
Subscription-free & no call charges
Compact, light and durable
Waterproof to 10m and buoyant when used with flotation pouch.
True global emergency alerting via COSPAS-SARSAT satellites
406 MHz international distress signal and also 121.5 MHz homing signal
50 channel integral GPS
Minimum of 24 hours continuous operation
Simple 3 stage activation
Operates at temperatures down to -20°C
SOS LED flash light
Self-test up to 12 times per year
6 year replaceable battery life
Flotation pouch, lanyard and also a universal pouch included
For full details of this product please go to the manufacturer's website here: www.kannadmarine.com. For product pricing and also stock availability please call +852 2827 5876 or contact us.