PolyMarine PVC Adhesive 2 Part, 1 Litre Tin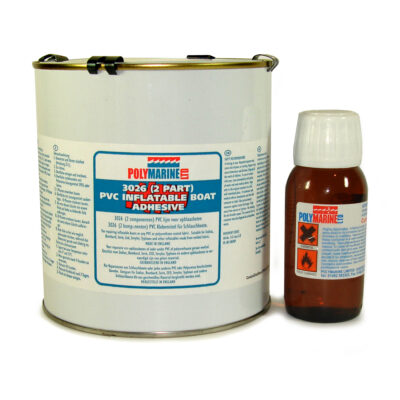 PolyMarine PVC 2 Part Adhesive is a solvent based polyurethane adhesive giving excellent adhesion to both plasticized and unplasticized PVC. Used in conjunction with 107 curing agent, will bond a wide variety of surfaces including PVC, nylon fabric, polyurethane fabric and also foam. The 1L size tins are ideal for multiple repairs.
PolyMarine PVC Adhesive 2 Part Features
PVC Inflatable Boat Adhesive
Use for repair of all PVC inflatables including Zodiac / Bombard "Dynalon" and "Strongon" fabrics and Narwhal/Valiant "Hypertex"
Easy to mix two parts in sets with requisite amount of curing agent
Use as a single part for quick temporary repairs
Easy to apply by brush, roller or serrated trowel
Used by liferaft service stations and major manufacturers
Specifications:
Contact bonds in 10-15 minutes, full cure 48 hours
Shelf life – 24 months unopened tin
Mixed adhesive has pot life of 3-4 hours
Coverage. using 2 coats 1 liter bonds 1 square meter
IMPORTANT: Due to this product being classed as Dangerous Goods we do not ship outside of Hong Kong
Please note: For a complete bond 2903 solvent must be used before the PolyMarine PVC Adhesive 2 Part is applied. Not for use on Hypalon – use Polymarine Hypalon Adhesive.
For full details of this and other products please go to the manufacturer's website here: www.polymarine.com. For product pricing and also stock availability please call +852 2827 5876 or contact us.