PSP Waterproof Duck Tape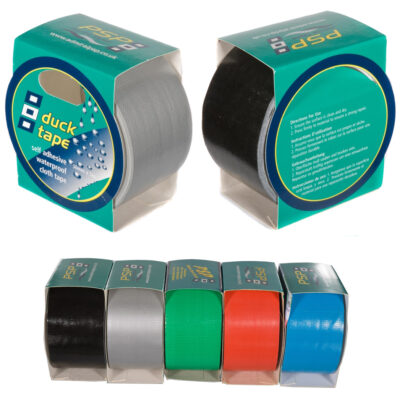 The perfect combination of being versatile, highly adhesive, waterproof, air-tight, strong. PSP Duck Tape can be tailor cut from the roll, applied straight onto damp surfaces, and even comes in an array of colours. It is perfect for many tasks, situations or issues that arise – a hole in the bow of a hull after a collision for instance. Duck tape makes the perfect temporary patch on a dinghy or a kayak!
Colours and Sizes
Silver, White, Black, Red, Blue, Green, Yellow and Clear
Available in sizes: 50mm x 5m and also a larger 50mm x 50m
For full details of this and other sailing tapes and patches please go to the PSP website here: www.admiralpsp.co.uk. For product pricing and also stock availability please call +852 2827 5876 or contact us.