Yak Equipment – Rescue Throw Bag 15m / 20m / 25m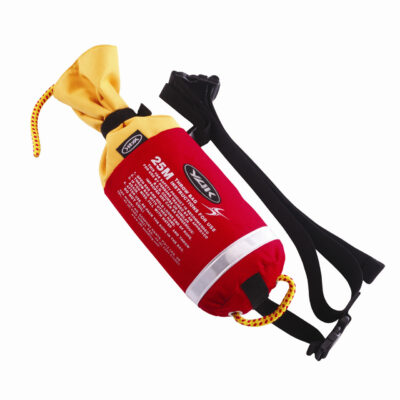 Use the Throwing Bag in rescue situations. The bullet bag design ensures a long and accurate throw with the ability to recover and re-throw if the target is missed. Available packed with 8mm rope in 15, 20 and 25m lengths. Made from colourful materials so they are highly visible in the water.
Features
Tough polyester construction
Includes belt
Available in three lengths
High visibility in the water
Easy to re-throw if target is missed
Ideal for Kayaking and other paddle sports
Also available are similar items: Crewsaver Horseshoe Buoy, Rescue Sling, Life Line and the Throwing Strop.
Simple to Use
Just open the mouth of the bag by unclipping the belt and then throw towards your target.
Please refer to the YAK/Crewsaver website for more information about the safety range as well as other products: www.crewsaver.co.uk/yak