PSP Spray Stop Repair Tape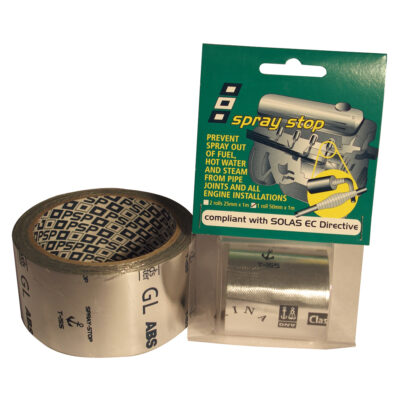 SP Spray Stop Tape is designed to prevent the spray of fuel, hot water, or steam from burst pipes, pipe joints, flanges, boilers, exhaust manifolds, silencers and engine installations.
The tape is easy to apply in an overlapping spiral wrap under tension.
In the event of a leak, the tape will prevent fuel from spraying out potentially causing damage or a fire. works in temperatures of +160oC.
PSP Spray Stop Tape is SOLAS compliant.
Available in sizes/colour:
25mm x 1m (2 roll pack)
50mm x 1m
Colour: Silver
For full details of this and other sailing tapes and patches please go to the PSP website here: www.admiralpsp.co.uk. For product pricing and also stock availability please call +852 2827 5876 or contact us.