Mclube Hullkote 16oz/423ml Bottle
The Environmentally Friendly Marine Polish for Boat Hulls, Spars and More!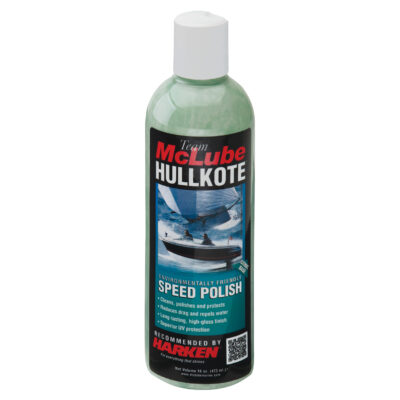 Hullkote is an environmentally friendly, citrus-based polish which deep cleans and protects your hull so it's always in racing condition. Its long-lasting, high-gloss finish repels water to reduce drag for ultra-fast results. Hullkote applies easily over other waxes and polishes and is safe to use on fiberglass, metal, plexiglass and painted surfaces.
Suitable for all kinds of surfaces. GRP, hulls, decks and super structure, Gel Coat, Cookers, fridges, enamel, stainless steel and also chrome.
Features
Environmentally friendly citrus based hydrophobic polish designed for an easier, faster hull coating application… saving your team's valuable time and strength for the race course.
Citrus based natural degreaser and polish creates an ultra-smooth, well sealed finish with an excellent and long-lasting high gloss shine
Same active ingredient suspension as Sailkote creating the same durable chemical bond as Sailkote
Provides superior UV protection for your hull and spars from the damaging rays of the sun
Very environmentally friendly and entirely safe for you to use
No harmful petroleum distillates (used in most other polishes and wax products), no harsh solvents, and no nano-tech health or safety concerns here
Keeps your hull cleaner, much longer than anything else available today
Applies in half the time of standard petroleum based polishes (just wipe on and wipe off, no waiting for anything to dry)
Deep, lustrous showroom quality shine
Lasts more than one full year above the waterline and more than 20 days of hard use below the waterline (2-3 coats will increase performance and durability to more than 30 days below the waterline)
Highly hydrophobic (repels water, dirt, salt, grime, oil deposits, etc.)
Comes in usefull 423ml/16oz bottle
For full details of this and also other products please go to the manufacturers website here: www.mclubemarine.com. For product pricing and stock availability please call +852 2827 5876 or contact us.