Harken 22mm Micro Fiddle Block with V-Jam – Ideal for Dinghies and Windsurfers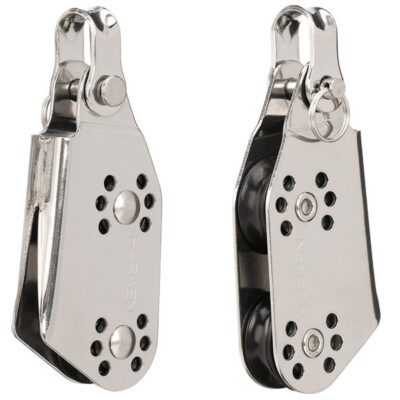 The 22mm Micro Fiddle Block with V-Jam is a compact, low-friction, lightweight block system with a small sheave diameter. Designed to create compact, self-cleating tackles on boats where up to 6 mm (1/4″) line is used. This block has a fast trim and releases under both high and low loads. Delrin ball bearings ride on flat races for ultimate low load performance. They are also capable of working loads of 91 kg (200lb).
This micro fiddle block is especially ideal for windsurfing control lines, especially when combined with the Allen 20mm Single Block or the Harken Micro Block. Add it to a double block for extra purchase too.
Easy maintenance: just flush with mild soap and fresh water. They are ideal for use on windsufers, dinghies, and lightly loaded control lines on boats of all sizes.
22mm Micro Fiddle Block Features:
Sheave Ø: 22mm / 7/8in
Maximum line Ø: 6mm / 1/4in
Maximum working load: 159kg / 350lb
Breaking Load: 544kg / 1,200lb
Weight: 57g / 2oz
Contains two sheaves and a shackle
Part Number 244
We also stock this fiddle block with a becket, part number 245.
For full details of these and other Harken products please go to their website here: www.harken.com. For product pricing and also stock availability please call +852 2827 5876 or contact us.