Riptide Silicone Free Gel Coat Polish
Environmentally friendly three in one silicon free gel coat polish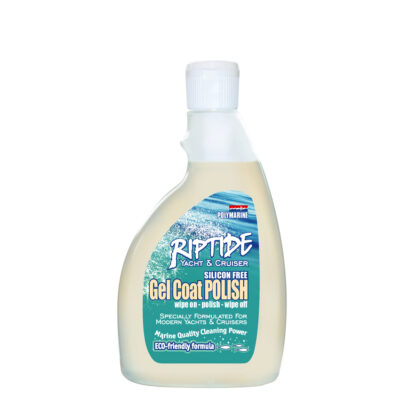 Polymarine's Riptide Silicone Free Gel Coat Polish gently buffs and polishes to a brilliant shine without scratching. Totally safe on all marine materials. Silicon Free formulation.
Apply polish direct to a soft, dry, lint free cloth. Avoid over application. Buff surface area lightly with circular motion. Leave light trace of Polish on surface to dry, then buff off with clean soft dry cloth.
Suitable for all kinds of surfaces. GRP, hulls, decks and super structure, Gel Coat, Cookers, fridges, enamel, stainless steel and also chrome.
Product uses
Deck
Gel coat
Heads (toilets)
Hulls / GRP
Laminate
Sinks / showers
Recycle
The bottle is made of Polyethylene while the cap is made of Polypropylene. Consequently both these plastics are 100% recyclable.
For full details of this and also other products please go to the manufacturers website here: www.polymarine.com. For product pricing and stock availability please call +852 2827 5876 or contact us.