Icom IC-M25 Handheld VHF Radio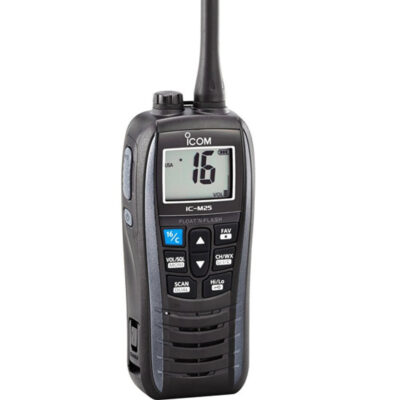 Great features and style are the traits of Icom's IC-M25 floating marine VHF radio, which floats and flashes when dropped into the water. Sporting a slim design, this handheld has the lightest body in the market for a floating VHF radio, just 7.8oz. New for an Icom marine handheld, this radio requires a USB connector for convenient charging from a variety of electronic devices!
It Floats & Flashes
Icom pioneered the floating VHF marine radio and set the trend with the M24 adding the Float N Flash flashing light feature. The M25 floats when dropped in water, even with the optional, HM213, microphone attached. The flashing light feature activates when the radio hits the water, even if the power is off. Not only does the LCD and key backlight on the front panel flash, but also a red LED light blinks through the rear panel showing the place of the radio to easily retrieve.
LOUD Audio
The M25 provides a powerful 550mW (12 Ohm load) audio output and received voice can be heard loud and clear. The volume loud and mute functions offer quick adjustment of the volume level by holding the VOL/SQL button and pushing the ▲ or ▼ button.
USB Charging
The M25 uses a standard USB connector (Micro-B type). Cigarette lighter cables or mobile batteries for charging Smartphone's or other devices can be used with the M25*.
Features
Large LC with large channel number and status icons
Front panel buttons provide simple and straightforward operation
AquaQuake™ draining function removes water from the speaker
4-step battery life indicator
Weather channel with weather alert
Dual/Tri-watch functions
Instant access to Channel 16 or programmable call channel
Favorite channel function
Monitor function opens noise squelch
Auto scan function
LCD auto backlighting
New Hong Kong 96 & 99 channels pre programmed in
For more information please go to the manufacturers website here: https://www.icom.co.jp/