Crewsaver ErgoFit 50N 'High Impact' Buoyancy Aid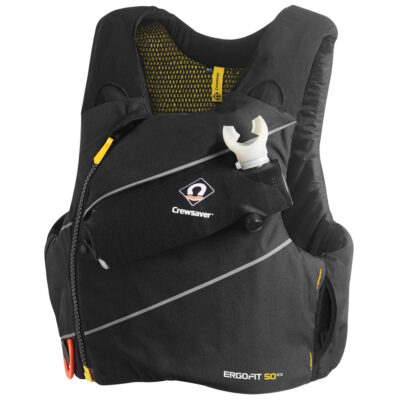 The Crewsaver ErgoFit 50N 'High Impact' buoyancy aid is a revolution in personal safety equipment. This buoyancy aid provides some of the most advanced safety specifications ever offered to date. It manages to combine comfort with hi-tech innovations such as removable spare air pocket for oxygen cannisters and Forcefield armour. While also offering a low profile, maximum comfort design ensures there are no compromises for those operating in the most demanding conditions.
Through their partnership with Artemis Racing, Crewsaver were able to develop this innovative buoyancy aid for all sailors as well as the professionals. Now this gives everybody the opportunity to benefit from the same safety as well as performance technology as an America's Cup sailor!
Combining advanced safety features such as Spare Air attachments, body armour and line cutter stowage with a low profile, snag free design means that you can expect nothing but the best in safety and performance technology.
Crewsaver ErgoFit 50N Buoyancy Aid features
Breathable airflow technology
Low profile sculpted design
Dual adjustment for optimal fit
Large slimline front pocket
Removable hands free Spare Air pocket
Durable outer cover material
Concealed back pocket for hydration pack
Hydration tube exits
Stretch-to-fit breathable side and shoulder panels
Ergonomic curved zip
Quick access line cutter stowage
Available with and without Forcefield armour protection to suit varying needs
Please Note: While the pocket is provided, there is no oxygen cannister provided with this buoyancy aid.
Size Guide

Crewsaver's range of Buoyancy Aids have something for everyone, with products to suit all aspects of surface water sports. Low bulk designs such as the DB60, Max and also the Response are perfect for dinghy sailors, offering a choice of style and pocket configuration. While the Ski range of products has additional features for high speed powered water sports.
It is important that you pick the correct CE Category to suit your type of activity and experience.
For more information about this product as well as the full range, please go to the official Crewsaver website: www.crewsaver.com
For product pricing and stock availability please call +852 2827 5876 or contact us.