Allen Dry Lube – PTFE Powder Aerosol Spray Lubricant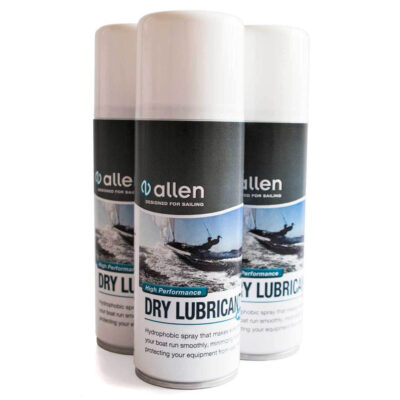 Allen Dry Lube is a high performance, hydrophobic, dry lubricant PTFE powder aerosol spray. Dry Lube is ideal where drag and wear need to be kept to a minimum. For example, luff tracks, spinnaker chutes and zips as well as any other application.
Allen Dry Lubricant contains PTFE in suspension with Silicon. "Dry" in the product description refers to the formulation of the PTFE element, which is designed to stay where it is sprayed. "Dry" in this context does not refer to the compound as a whole, we chose to use a high PTFE content in suspension because the silicon keeps the active PTFE at the point of delivery for longer and it enhances the hydrophobic properties of the product.
The high proportion of active PTFE lubricant delivered and kept in contact with the bearing surfaces by the silicon increases both the life of the lubricant effect and the hydrophobic qualities. Test scenarios included immersion in, and spraying of, salt water onto treated bearing surfaces. When we tested both products, Allen Dry Lubricant was more resistant in each scenario to displacement by salt water than any competitor and was more effective at providing long lasting hydrophobic lubrication. People only need to use small quantities of the product. Inaccurate use as well as over spraying or inaccurate use of the product could affect other areas.
Allen – Dry Lube & Hull Coat Features
Protects as well as lubricates
Increase boat speed by coating your hull
Environmentally friendly
Works with carbon fibre, wood, nylon, stainless steel, brass, aluminium and also composite materials
Works on sails
Comes in 200ml cans
Application for Allen Dry Lube
Tracks, Cars and Sheeves
Apply by spraying on to a soft cloth and polishing the entire track. This will give an even veneer of Allen Dry Lube to all surfaces. For blocks and rollers spray directly on to the bearing surfaces and ball races, again polish the outer surfaces to remove any excess lubricant. Allow to fully dry and if required polish the surfaces once again to leave a lustre.
Carbon fibre, Metal and Composite Surfaces
Spray directly on to the surface or on to a clean dry cloth and polish Allen Dry Lube in to the surface. Allow to dry for 2-3 minutes and polish with a clean dry cloth.
Hull Application
Clean the hull surface by cutting back with a suitable grit compound such as Farecla G3. Apply Allen Dry Lube directly on to the surface evenly, 1m square at a time. Immediately polish the surface with a cloth working the Allen Dry Lube liquid in to the surface. With a fresh clean dry soft cloth polish the surface until the desired shine is achieved. A second coat of Allen Dry Lube can be applied after a further 72 hours.
For full details of this and other products please go to the Allen Brothers website here: www.allenbrothers.co.uk. For product pricing and stock availability please call +852 2827 5876 or contact us.