Speedsix – Dry Lube & Hull Coat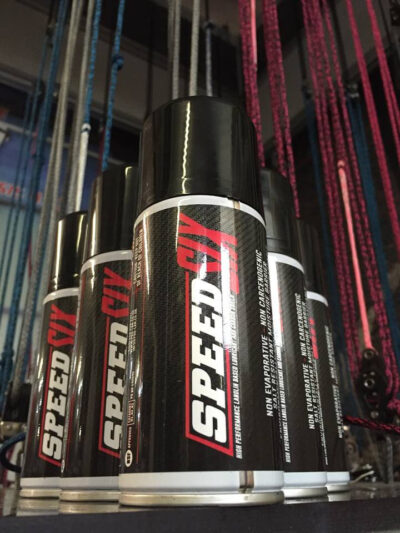 Speedsix is formulated to reduce friction on all surfaces, especially on all types of sailing and racing yachts. Speed Six is developed by sailors and therefore formulated to be hard working and long lasting.
It is made from naturally occurring ingredients which are kind to you, your boat and the environment. Especially important for inland sailing and racing.
Speedsix is perfect for covering dinghy hulls for that extra bit of speed.
No matter if you are at the top of your game racing a foiling cat or cruising in a bilge keel weekender, SpeedSix is designed to protect your pride and joy as much as it is about performance. After all who does not want the sheets, guys and halyards to run a little easier or the sails to run easy in the track. No Matter what level or what boat you are sailing it is about being your best and your equipment delivering the best.
Speed Six – Dry Lube & Hull Coat Features
Protects as well as lubricates
Increase boat speed by coating your hull
Environmentally friendly
Works with carbon fibre, wood, nylon,stainless steel, brass, aluminium and also composite materials
Biodegradable
Comes in 150ml cans
Application for SpeedSix
Tracks, Cars and Sheeves
Apply by spraying on to a soft cloth and polishing the entire track. This will give an even veneer of speedsix to all surfaces. For blocks and rollers spray directly on to the bearing surfaces and ball races, again polish the outer surfaces to remove any excess lubricant. Allow to fully dry and if required polish the surfaces once again to leave a lustre.
Carbon fibre, Metal and Composite Surfaces
Spray directly on to the surface or on to a clean dry cloth and polish Speedsix in to the surface. Allow to dry for 2-3 minutes and polish with a clean dry cloth. As with any wax, Speedsix requires the wax surface to be polished to a shine.
Hull Application
Clean the hull surface by cutting back  with a suitable grit compound such as Farecla G3. Apply Speedsix directly on to the surface evenly, 1m square at a time. Immediately polish the surface with a cloth working the Speedsix liquid in to the surface. Continue until the entire hull has been covered. With a fresh clean dry soft cloth polish the surface until the desired shine is achieved. A second coat of Speedsix can be applied after a further 72 hours.
How it Works
Speedsix bonds to the surface it is applied to. This process takes between 4 to 24 hours to fully complete and is dependant on the material and ambient temperature. Ideally apply in temperatures above 10 degrees in a dry environment.
Speedsix's chemistry makes it hydrophobic and resistant to acids and salts found in salt water and the marine environment, it therefore protects all the surfaces it is applied to as well as lubricating them.
It is designed to be a very thin lubricant which will penetrate and wick its way in to the ball race of all blocks, pulleys and sheaves.
The Green Bit!
SpeedSix is powered by Prolan – 100% environmentally friendly, biodegradable, non carcinogenic and most importantly certified safe to be used within the food chain. Therefore once applied and dried safe for your boat, safe for you and safe for the environment.
Lanolin is a natural product (wool wax) from sheep it is the evolution by nature which has given this incredible capability of providing an environmental barrier which is not only weatherproof but extremely low in friction.
For full details of this and other products please go to the manufacturers website here: www.speedsix.co.uk