Riptide Yacht Interior All-Surface Cleaner
Environmentally friendly Interior All-Surface Cleaner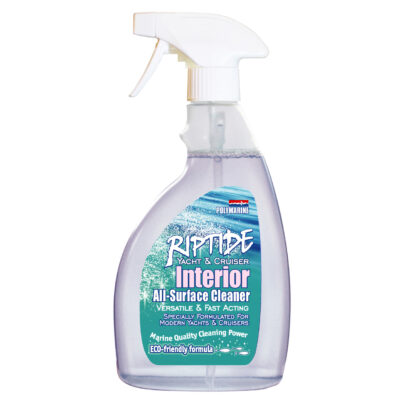 Polymarine's Riptide Interior All-Surface Cleaner is ideally suited to today's modern marine interior materials. Cuts through grease and grime effectively using natural power. Safe to use, non-toxic and also food safe for galley surfaces. Fresh natural fragrance while being hygienic and naturally powerful. Contains no solvents or CFC's so no residue of unnecessary chemicals. Also has an optimum level of biodegradability which far exceeds legal requirements. Furthermore, the cleaner has minimum impact on aquatic life.
Riptide Interior All-Surface Cleaner cleans and shines a wide variety marine surfaces. It is particularly suitable for galley and heads surfaces, plastics, GRP, shower rooms, basins acrylic and chrome. Spray lightly over the surface and wipe clean with a clean damp. No need to rinse.
Product uses
Bimi covers
Canvas
Carpets
Fabric (man made/washable)
Laminate
Sinks / showers
Vinyl
Worktops
Recycle
Packaging bottle made of polyethylene while the cap is polypropylene. Both of these plastics are 100% recyclable.
For full details of this and also other products please go to the manufacturers website here: www.polymarine.com