Riptide Yacht Exterior Multi-Purpose Cleaner
Versatile, fast acting & environmentally friendly!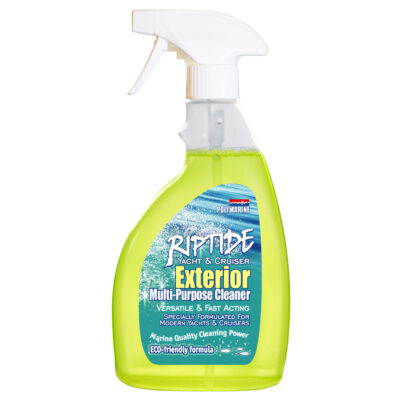 Powerful cleaning, naturally. This yacht, dinghy and cruiser Multi-Purpose Cleaner hygienically and chemically cleans GRP, Gel Coat as well as all hard washable surfaces. Contains no solvents or CFC's, ideally suited to modern marine materials. Leaves no residue of unnecessary chemicals while having an optimum level of biodegradability. As a result it far exceeds legal requirements. Totally safe to marine life when used as instructed.
Economical to use. Wet area to be cleaned first with water, spray Riptide Exterior Multi-Purpose Cleaner directly on to area to be cleaned. Spray from 25cm away direct to surface or onto soft application cloth and gently rub area then wipe off with a soft clean cloth for extra sparkle. Agitate with a clean cloth or sponge, rinse off. Repeat application if necessary. Suitable on all washable surfaces, GRP, Gel Coat as well as laminates.
Product Can Be Used On:
Brass
Chrome
Deck
Gel coat
Heads (toilets)
Hulls / GRP
Mirrors
Sinks / showers
Stainless steel
Vinyl
Recycle
Packaging bottle made of polyethylene; cap of polypropylene. Polyethylene and polypropylene are 100% recyclable.
For full details of this and other products please go to the manufacturers website here: www.polymarine.com