Riptide 3 in 1 Toilet Cleaner For Boats
Environmentally friendly three in one toilet cleaner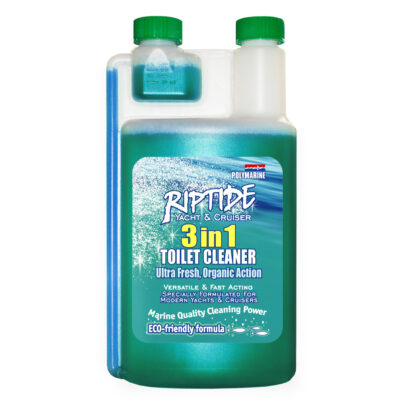 1. Triple action: cleans, decalcifies and freshens exposed surfaces.
2. Lubricates moving parts and seals.
3. Promotes bio-degrading action in holding tank. Hygienic, naturally powerful and also safe to use.
Optimum level of biodegradability – far exceeds legal requirements. Minimum impact on aquatic life. Suitable for septic holding tanks
Squirt a small amount into the toilet and under the toilet rim. Leave to soak. If needed, scrub with the toilet brush. Flush. Give final squirt to remain in toilet pan when leaving craft unused for a period of time.
Recycle
The bottle is made of Polyethylene while the cap is made of Polypropylene. Consequently both these plastics are 100% recyclable.
For full details of this and also other products please go to the manufacturers website here: www.polymarine.com. For product pricing and stock availability please call +852 2827 5876 or contact us.