PolyMarine Liquid Letters Hypalon Paint – 125ml Tin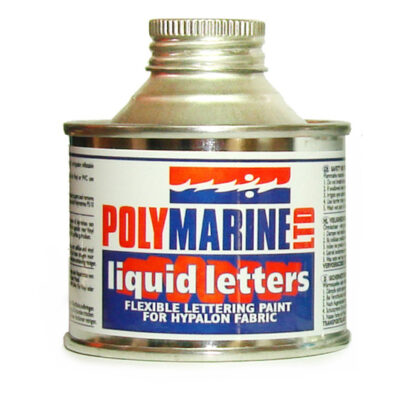 PolyMarine Liquid Letters – A fully flexible paint formulated for Hypalon PU and also rubber variant fabric. Smooth satin finish will not crack or likewise flake off. Designed for lettering and above all numbering the sides of RIBS.
PolyMarine Liquid Letters Features
Smooth satin finish
Will not crack or flake off
No mixing required
Touch dry in 30 minutes
Two coats for best results
Can be used for resealing and preventing rubbing strake and mouldings from powdering
Supplied in 125ml containers
Available in Black, White, Grey, Orange and also Blue colours
IMPORTANT: Due to this product being classed as Dangerous Goods we do not ship outside of Hong Kong
WARNING
Above all, this product must not be used on any PVC coated fabric surface. If you need a PVC paint then go here.
For full details of this and also other products please go to the manufacturers website here: www.polymarine.com. For product pricing and stock availability please call +852 2827 5876 or contact us.