Riptide Hull and Deck Shampoo
Non-slip and non-abrasive & environmentally friendly!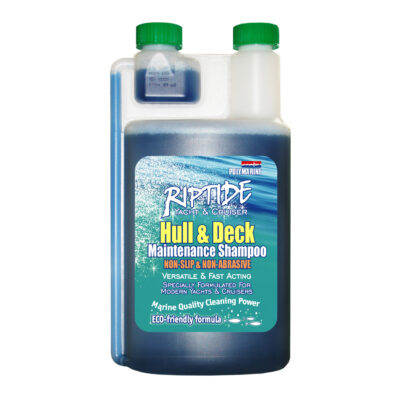 Polymarine's Riptide Hull and Deck Shampoo is a naturally versatile, high foaming cleaning fluid. Therefore providing a clean, non-slip finish. Cleans GRP, gel coat and all also other hard washable surfaces. Contains no solvents or CFC's, so is ideally suited to the modern marine materials. Leaves no residue of unnecessary chemicals while the optimum level of biodegradability far exceeds legal requirements. Totally safe to Marine life when used as instructed.
Riptide Hull and Deck Shampoo Uses
Deck
Gel coat
Glass
Heads (toilets)
Hulls / GRP
Mirrors
Portholes
Sinks / showers
Stainless steel
Vinyl
Recycle
The material of the bottle is Polyethylene while the cap material is Polypropylene. Consequently both these plastics are 100% recyclable.
For full details of this and also other products please go to the manufacturers website here: www.polymarine.com. For product pricing and stock availability please call +852 2827 5876 or contact us.