Anchor Marine Fender Cleaner – 500ml Bottle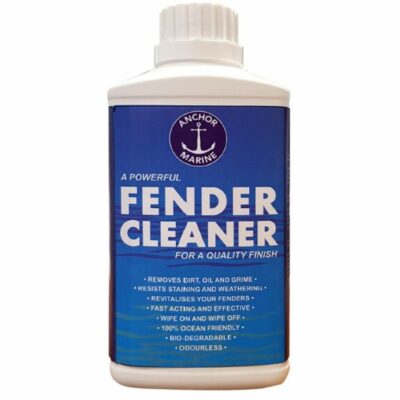 Anchor Marine Fender Cleaner is the most fast acting, efficient and ocean freindly fender cleaner out there. This cleaner not only revitalises your fenders from dirt, oil and grime but also leaves a protective sheen. Therefore increasing the life of your fenders. In addition it is easy to use – simply wipe on to your fender and wipe off, you will see results in seconds.
A powerful cleaner for a quality finish!
This fender cleaner is an ideal asset for junk hire companies or yacht management agencies to make sure customers don't see grimey marks all along the sides of the boats and fenders.
Features
Removes dirt, oil and also grime
Resists staining and weathering
Revitalises your fenders
Fast acting and effective
Wipe on and wipe off
100% Ocean friendly
Bio-degradable
Odourless
Dilutable (5:1)
Need to replace or upgrade your fenders? See our range of Anchor Marine Fenders here.
Active Ingredients:
Sodium Laureth Sulphate, Cocamidopropyl Betaine, Cocomide DEA.
IMPORTANT: Due to this product being classed as Dangerous Goods/Liquids, we do not ship outside of Hong Kong.
For full details of this and also other products please go to the manufacturers website here: www.anchor-marine.com. For product pricing and also stock availability please call +852 2827 5876 or contact us.