Allen 30mm Blocks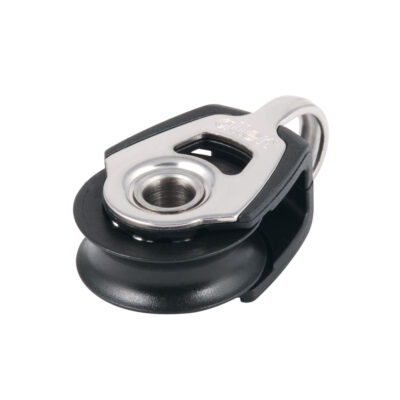 Whilst the Allen 30mm blocks maybe not be as well known as some of their competitors, take a closer look at the finer details of their design, the quality of the materials and construction to fully appreciate the difference. Allen Brothers have established a high end product in terms of quality and reliability without pricing them as such.
From the patented high strength .316 stainless steel line friendly ultra strap, to the soft contours of the sheave and cheeks moulded from advanced engineering polymers, patented dynamic bearing technology featuring twin rows of .316 stainless steel ball bearings all held together with a meticulously designed .316 stainless steel jacket, Allen 30mm blocks are the strongest and best available on the market. Allen Brothers certainly do know how to make a high quality dynamic block.
Allen blocks are available as
Single
Single with a choice of: Traveller 30-40, CNC machined aluminium top block, High load single – s/s sheave, Stand-up fixed, Swivel Block, Single with swivel hook, Ezi-Tii, multi function, fiddle, fiddle and cleat (kicker), cheek fork head and swivel fork.
Double
Double with becket
Triple
Triple with: becket, cleat and becket
Though deck, back to back and others also available in this Allen 30mm Blocks range
For full details of these and other Allen Brothers products please go to the website here: www.allenbrothers.co.uk. For product pricing and also stock availability please call +852 2827 5876 or contact us.