Harken 57mm Ratchet Block – Swivel – Ideal for Dinghy Mainsheets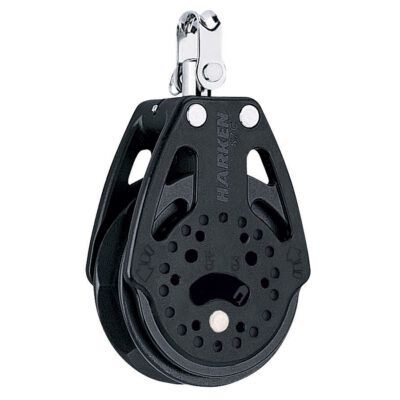 Carbo ratchet blocks allow sailors to hand-hold loaded lines and offer balance between holding power and controlled easing. The switchable Harken 57mm Ratchet Block provides precise on/off control with accessible, easy-to-operate switches on both sides of the block.
Nylon resin sideplates are densely packed with long-glass fibers for a compact block with a high strength-to-weight ratio. Machined aluminum sheaves come hardcoat anodized for strength and corrosion resistance. Eight facets hold the line securely. Ball bearings, sheave and sideplates also UV-stabilized.
Specifications
Sheave Ø: 57mm / 2 1/4in
Maximum line Ø: 10mm / 3/8in
Maximum working load: 227kg / 500lb
Breaking Load: 907kg / 2,000lb
Weight: 85g / 3oz
Shackle pin Ø: 5mm / 3/16in
Harken Carbo Air blocks are made of tough reinforced composite in a size and style to fit any system: singles, doubles, triples, quads & quints; ratchets and also fiddles. As well as soft and hard attach. They have very high working loads for safe, easy trimming and are lightweight, strong, reliable and affordable.
For full details of these and other Allen Brothers products please go to the website here: www.harken.com. For product pricing and also stock availability please call +852 2827 5876 or contact us.