Description
Wire Splicing Needle From English Braids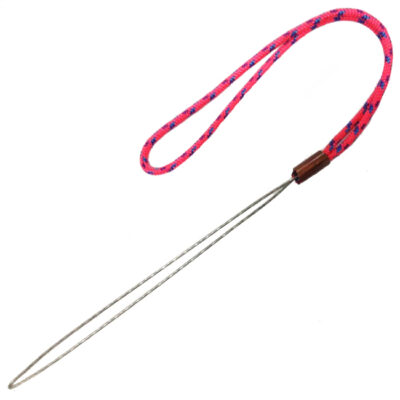 A stainless steel wire loop on 3mm cord makes a great tool for easy pulling when splicing small lines. The English Braids Wire Splicing Needle is great for tight crossovers and is a nice, minimal wire fid for people who don't want to use the piano wire/clamp method. Designed specifically for splicing modern low stretch ropes such as Dyneema, Dynamic Line and others.
Features
Pull through operation
Stainless steel wire with English Braids rope handle
Lightweight construction
Double needle clamps the line making it easy to pull through
Perfect for smaller diameter ropes
As a manufacturer of ropes and cordage, English Braids are in a perfect possition to also offer splicing tools.
For more information on the English Braids range please visit their website here: www.englishbraids.com
For product pricing and stock availability please call +852 2827 5876 or contact us.