Swedish Fids – Two Sizes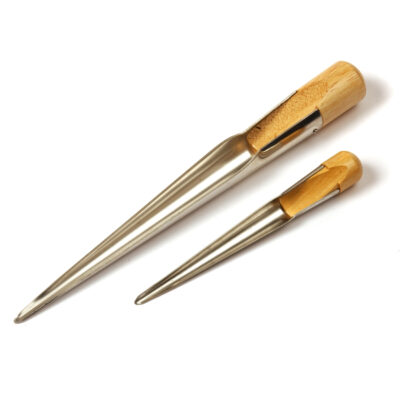 High quality traditional Swedish Fids, made from stainless steel with a fine wooden handle. Excellent tool for splicing and rope work. While initially intended for 3-strands, inserted in to the lay of the rope the hollow section of the fid allows many types of rope strands to be pulled through.
These types of fids are also effective for opening up hollow braid rope to make a brummel splice, moving the rope down the side before tightening it up again.
Features
Traditional Swedish fid
Designed for splicing 3-strand ropes, but also useful for easing out strands in more complex splices
Snag free, smooth profile for a tidy finish
Ergonomic, comfortable wooden insert handle
Small Size – 170mm length overall, for ropes up to 16mm diameter
Large Size – 290mm length overall, for ropes 18mm diameter and above
Need some guidance on splicing techniques, take a look at the English Braids Splicing guide – a great set of step-by-step videos.
We sell smaller fids (4mm and 5.5mm) also seperately.
If you want to splice smaller diameters up to 4mm, we advise you to use the D-SPLICER.
For product pricing and also stock availability please call +852 2827 5876 or contact us.