Tylaska Pull-Pin Shackle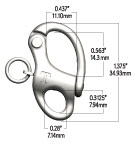 The new Tylaska Pull-Pin MP2 is now the smallest shackle Tylaska produces. Weighing less than 0.5 oz (14 grams), the MP2 has a  breaking strength of 2,000 lbs, and a working strength of 1,000 lbs. The MP2 has a fixed bail loop integrated into the body of the shackle for easy attachment to a line or webbing. Ideal for dingy racing or light air conditions.
Tylaska are well known in the sailing community for offering high end quality sailing hardware that is dependable and easy to use when you need it the most.
The Tylaska Pull-Pin Shackle Features
For full details of these and other Tylaska products please go to the website here: www.tylaska.com
Tylaska Marine Hardware
Tylaska Marine Hardware is an American manufacturer of high quality marine hardware for the sailing and marine industry. Tylaska products include Snap Shackles, Halyard Shackles, J-Locks, and Fids. We have hardware for every sailboat whether it is a small one design, a mid size racing or cruising boat, or a 100 foot ocean cruiser.
Tylaska shackles provide discriminating sailors with the ultimate in strength, performance and durability. They are the standard for cutting edge racing and cruising sailboats throughout the world. Tylaska Shackles can be found on many of the boats in the America's Cup Challenge, the Volvo Around the World Race, Fastnet Racing Series, and the Key West and Block Island Race Week series.